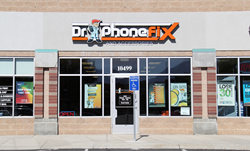 DrPhoneFix stores are quickly becoming the household name in smartphone and tablet repair.
Fort Lauderdale, Florida (PRWEB) August 24, 2014
With an affordable startup cost, and a team that has opened twenty stores and is willing to give guidance every step of the way, Dr Phone Fix is fast becoming one of the most attractive businesses in the cell phone and electronic device repair industry.
It is estimated that twenty-three percent of American iPhone users has a broken screen, which they will take an average of six months to fix. Six months is if they get it fixed at all, as thirty-one percent of those with broken screens said they would probably never fix their phone. People are smart with their money, so it seems that if fixing the phone could be done quickly and at an affordable rate, they would be more likely to get their devices fixed. This idea is at the heart of Dr Phone Fix's model, so they offer affordable rates to customers and licensee alike.

Tap Into An Ever Expanding Market
It is estimated that more than 845,000 devices being damaged per day, there is an ever present need for repairs. Sales projections for the iPhone 6 see about 170,000,000 of the devices being sold, which tops every device they have ever sold. Nearly everyone has a smart phone, and it is not just iPhones people are buying, which is why Dr Phone Fix trains its employees to fix all of the most popular devices including laptops, tablets, computers, and every major smart phone on the market.
While Dr Phone Fix is very proud of its name, they let licensee have freedom to operate stores the way they want. A store owner is their own boss, which is really everyone's dream. They do only ask that a store owner "protect and build the Dr Phone Fix brand."
Become a Part of the Brand
The best part of becoming a part of the brand is recognition. As Dr Phone Fix has grown, they have maintained a reputation for excellence and quality cell phone repairs, which translates into more satisfied customers who are willing to recommend our services to others. http://drphonefix.com also maintains a strong Search Engine Optimization (SEO) program which is reaching more than 20,000 unique potential customers per day. All stores are listed on the site with directions available to the store.
Get access to High Quality Vendors
Dr Phone Fix has taken the time to build relationships with quality suppliers of parts and accessories. They offer fast delivery of parts and everything else it takes to keep stores fixing phones effectively and efficiently.They make delivery of accessories based on month to month sales, so the inventory is always current with the latest styles.
With the large market of electronics repair, it is possible to increase your current income by 30% .
Dr Phone Fix attempts to ensure this by using its strong in house marketing department. They advertise locally and online for each new store, to attract attention to the business. It is a fun, exciting way to make money and own one's own business.
Visit us at http://ownadrphonefix.com
3000 SW 4th Ave Fort Lauderdale, FL 33315
305-807-3376
877-928-8905
dan(at)drphonefix(dot)com