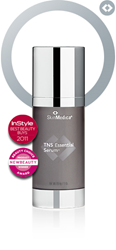 The test revealed a 160% decrease in wrinkles and 70% decrease in roughness.
(PRWEB) August 28, 2014
ShopBeautyMojo.com, an online retailer of high-quality, name-brand anti-aging skin care and cosmetics at the lowest prices possible, now offers SkinMedica's TNS Essential Serum, an unprecedented combination of the renowned growth factor formula to look younger, feel better, while saving time, money, and clutter during the hustle and bustle of every-day life.
SkinMedica, founded by world-renowned dermatologist Dr. Richard Fitzpatrick, is a cutting-edge skin care line based on the science of your skin's own healing abilities. Their innovative TNS Essential Serum is a dual-chamber serum featuring two active formulas working together to maintain the skin's youthful look and feel. The first chamber features the TNS Recovery Complex, a blend of proteins, antioxidants and amino acids that repairs damage, reduces inflammation and improves visible signs of aging. The second chamber features the APS Corrective Complex, a mixture of multiple anti-aging ingredients such as antioxidants, peptides and more. Kept apart until you pump them out and blend them, the two chambers come together for the most thorough anti-aging multitasking ever.
These two formulas regenerate the skin by smoothing fine lines and wrinkles, tightening sagging skin, strengthening the skin's regenerative abilities, brightening age spots, and fighting environmental damage. The complexion becomes youthful in both tone and texture, as well as brilliantly radiant and healthy-looking. TNS is the main ingredient in TNS Recovery Complex's patented skin treatment which is formulated from naturally occurring growth factors, antioxidants, soluble collagen, cytokines and matrix proteins (93.6% concentration).
This product continues to achieve rave reviews in magazines such as InStyle Editor's Pick, Best Beauty Buy, Best Wrinkle Treatment three years in a row (2013, 2012, 2011). Also featured in NewBeauty for their Beauty Choice Award, The Best Decollete Anti-Aging Product. And featured in May 2014 issue of Oprah Magazine, coined as "complexion perfection" where a consumer can follow their advice to help gorgeous looking skin. Additionally spotlighted in the January issue of Good Housekeeping with a feature story where TNS Essential Serum was used by a woman for 12 weeks to help improve significant wrinkles and crow's feet. The test revealed a 160% decrease in wrinkles and 70% decrease in roughness.
TNS Essential Serum saves consumers time, money, and clutter. This all-in-one product eliminates the clutter of an estimated 8 other products commonly found in one's medicine cabinet (1. Antioxidant Product 2. Vitamin C Serum 3. Peptide Serum 4. Brightening Serum 5. Green Tea Complex 6. Firming Cream 7. Tightening Treatment 8. TNS Recovery Complex). Those 8 products can cost well over $1000 versus the MSRP of $270 for the TNS Essential Serum. As a time savings, the TNS Essential Serum takes only seconds to apply versus the estimated 5 minutes per day to use the 8 other products.
"You truly get what you pay for when it comes to skincare." says ShopBeautyMojo's Sales & Customer Service Leader, Morenike Abdullah. "The quality you'll find in SkinMedica's TNS Essential just can't be matched by the products found at your local drug store. For those looking for quick results, with long-term benefits, this product does it all. I wish I would've started using it sooner."
ShopBeautyMojo offers exclusive discounts via their email newsletter, free same-day shipping, and premier customer service. The company also honors Allergan's Brilliant Distinctions, the only program that rewards customers with instant savings on Allergan products, including Latisse, GlyPro, and all other SkinMedica products.
For more information, visit BeautyMojo.com