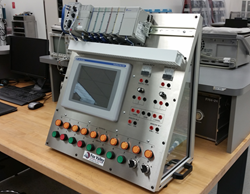 Our goal in partnering with technical colleges is to provide safe, durable training tools.
Sussex, Wisconsin (PRWEB) August 26, 2014
The Industrial Controls Company announced it has designed and built custom Programmable Logic Control (PLC) Trainers in partnership with Fox Valley Technical College (FVTC). The company was chosen for its understanding of industrial control systems, product longevity and background in collaborating with educational institutions.
According to Doug Bengson, General Manager, Neenah Division of The Industrial Controls Company (TICC), "Our goal in partnering with technical colleges is to provide safe, durable training tools that demonstrate good wiring practices and are representative of what students will be working with in Northeast Wisconsin manufacturing companies." Nick Exarhos, Regional Sales Manager for TICC, Neenah, stated, "We are excited to partner with FVTC on this project. Manufacturing is critical to the Northeast Wisconsin economy. Anything we can do to help further the experience of the people who keep our manufacturing facilities running benefits us all."
The custom PLC Trainers supplement the college's current PLC trainers by adding Rockwell Automation ControlLogix system training. They will be used in two of the college's educational programs: Automated Manufacturing Systems Technology and Electro-mechanical Technology. Students in these programs will gain confidence through exposure to the most common PLC platforms as well as knowledge which will make them more employable after graduation.
The product design incorporates a lightweight industrial aluminum frame to minimize weight. The polycarbonate side/back panels provide maximum visibility into the inner details of the trainer module, and allow students to safely examine good wiring practices in a real-world application. Additionally, the design includes 22mm industrial-grade operators and indicators which are the same controls that students will encounter in real-world manufacturing environments.
The front panel will be manufactured from brushed stainless steel, ensuring that these panels will withstand years of constant use by students. This panel will also be laser-etched in TICC's engraving department to provide easy-to-read labeling for all components on the front panel as well as adding FVTC logos. This etching process provides a more durable and attractive labeling solution than standard engraved phenolic or printed labels and can help demonstrate to students that FVTC is a best-in-class institution.
TICC has a background in designing and manufacturing PLC Trainers for educational institutions in the Wisconsin Technical College System. In 2008, TICC was engaged by Northcentral Technical College (NTC) to design and build Automation Systems PLC-based Trainers for their program. TICC designed a prototype in collaboration with NTC and delivered a total of 18 PLC Trainers over the last 6 years. TICC also designed and manufactured 24 Motor Trainers for NTC over the same time period. Jack Thielke, NTC Instructor, said of the product, "This unit is an invaluable classroom tool. They customized it around our specific needs."
About The Industrial Company: The Industrial Controls Company provides customers with engineering and manufacturing services from simple control panels or programming to complete "turnkey" manufacturing of process control systems. The Industrial Controls Company believes in making the customer successful through close design collaborations, rigorous quality standards, and continuous improvement.