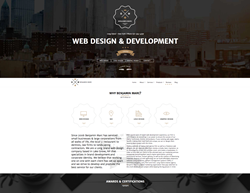 Lake Grove, New York (PRWEB) October 01, 2014
Benjamin Marc, the premier Long Island web design agency for companies and organizations throughout the tri-state region, is pleased to announce the launch of their new website at BenjaminMarc.com. The subtle changes reflect a new focus on responsive web design that Benjamin Marc is delivering to their customers.
For over 10 years, the team at Benjamin Marc have been providing web, graphic and logo design services, along with a number of other marketing and promotional-based offerings to the commercial community that makes up the Long Island and New York tri-state area. By bringing new design ideas and the most cutting edge technology, the Benjamin Marc digital agency shop has made a name for themselves and continue to improve their standing each day. There has been one customer that has been lagging behind the others in terms of up-to-date website design. That customer is themselves.
While their commitment to excellence when serving their clients has provided them with an excellent reputation, they have allowed their own website to lag behind on the newest design technologies. The new website launched today looks the same to those who are viewing it with a standard PC or laptop but those visiting the site using a mobile device will experience a more technology driven responsiveness that optimizes the site visitor experience across a wide array of mobile devices. This focus on mobile and responsive design allows potential clients to not only find Benjamin Marc online but also to be able to search their site, looking at the portfolio of projects that have been completed and a full outline of the services available to new and existing clients.
"We have been so focused on serving our customers that we have neglected ourselves a little and it was starting to show," said one team member. "We knew that if we were going to continue to attract the type of discerning clientele that we expect, we needed to show our best face regardless of what device they were using to learn about us." Another team member added that by re-working their site to be more in line with what internet customers are using to search for website and graphic design services, they are able to truly show their capabilities in a more complete fashion. The new website is equipped with galleries displaying their work in all areas including web design samples, new award winning logo and graphic, as well as a section for screen printing. Please be sure to check out Benjamin Marc or stop in their office for a consultation.