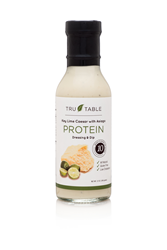 "Tru Table is honored to receive this prestigious award from The Gourmet Retailer," says Tru Table CEO Jody Kalmbach
Hobe Sound, FL (PRWEB) August 22, 2014
Tru Table, a startup specialty food company, is pleased to announce that their protein-enriched Key Lime Caesar with Asiago dressing was recently awarded as one of the "Best New Products" from The Gourmet Retailer, a magazine that has been serving retailers in the specialty food and housewares industries for over thirty years. The dressing was among the year's most tasty and on-trend retail items, and won based on the following criteria: innovation, taste/functionality and value. Tru Table's line of salad dressings and dips are the first of its kind to enter the market, and has 9 to 10 grams of protein per serving (as much protein as 1.5 – 2 eggs).
"Tru Table is honored to receive this prestigious award from The Gourmet Retailer," says Tru Table CEO Jody Kalmbach. "This recognition helps to illustrate our vision of taking a food that is often referred to as indulgent, and turning it into something that adds nutritional value."
The Florida-based company was founded by PGA Tour player and entrepreneur, Freddie Jacobson and chef Scot Elmore. For more than 25 years, Scot has used high-quality, natural ingredients to create gourmet food at prestigious clubs across the country.
Tru Table dressings and dips are made from all natural ingredients and are enriched with whey protein isolate, the purest and most easily absorbed form of whey protein. They are all gluten-free with no (or very low) cholesterol and three of the four flavors are vegetarian.
Tru Table's dressings and dips are available in four gourmet flavors: Orange Citrus & Black Chia Seed, Asian Sweet Chili & Tamari, Orange Blossom Honey & Balsamic and Key Lime Caesar with Asiago. Tru Table is currently available at Whole Foods and other gourmet markets in Florida, online at http://www.ShopTruTable.com, and will be available in additional markets in the near future. To learn more, visit http://www.TruTable.com.
About Tru Table
Tru Table is a Florida-based specialty food company that transforms gourmet food to more effectively support an active lifestyle. Founded by PGA Tour player and entrepreneur, Freddie Jacobson, and chef, Scot Elmore, Tru Table creates products from all natural ingredients that deliver incremental health benefits. The first product is a collection of protein-enriched salad dressings and dips.
About The Gourmet Retailer
The Gourmet Retailer Magazine has been serving retailers in the specialty food and housewares industries for over thirty years. The Gourmet Retailer magazine offers comprehensive articles on various issues that concern specialty food and housewares retailers, from staff training to the latest trends in prepared foods. Their issues feature articles on a wide variety of topics, including: product merchandising, display ideas, the coordination of special events, product introductions, gourmet food retail marketing, trade show previews and reviews, coffee and tea studies, housewares research reports, perishable foods and much more.
Media Contact
Jill Edgeworth
847-778-1538
jilledgeworth(at)hotmail(dot)com
Business Contact
Jody Kalmbach - CEO
561-602-3038
jody(at)trutable(dot)com