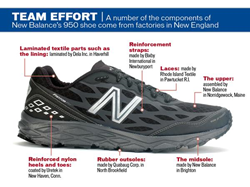 Today, that complete materials, process, and application development knowledge is applied broadly to solve problems in diverse and challenging new extruded film, sheet and laminate markets
Newburyport, Massachusetts (PRWEB) August 26, 2014
Bixby International Corporation was founded in Haverhill, Massachusetts in 1874 by brothers William E. and George H. (Bixby) to service the footwear industry in the Merrimack Valley of Eastern Massachusetts. In the beginning, Bixby focused on cut fiberboard, felt components and tacks used in the assembly of footwear. Over the decades, Bixby has expanded its services to this growing industry to become the dominant supplier of its product specialties to manufacturers throughout the US.
Dan Roccini, Bixby President reflects on the Company's past, and looks at the important role it continues to play with footwear manufacturers, "Bixby is a 140-year-old company, which started in Haverhill MA supplying components to the footwear industry. While much of the footwear industry has moved out of the US there is still a core of US footwear manufacturers producing high-quality sneakers, shoes and work boots. Bixby is proud to be the supplier to these manufacturers and proud to be using US workers in a US plant."
Bixby's work with footwear companies has shown that it can help clients manufacture more affordably in the US without sacrificing high quality. This is especially the case now that foreign wages and shipping costs are rising. Bringing more manufacturing back to the US not only enables Bixby to grow and create more jobs in the Newburyport area, where it is located, but it also helps its development partners to benefit from much quicker response times, much better exchange of ideas, and from getting higher quality products to market more rapidly.
What Bixby learned from its long-standing work for footwear manufacturers is applied to other industries as well. Marc Gagnon, Bixby Vice President, R&D/Product Development, explains how Bixby's past successes in footwear help it to solve many challenging issues that its various clients face today, "Bixby's long history and experience in the footwear industry has established a strong foundation to solve today's challenging technical extruded film, sheet and laminate constructions in new applications. In footwear Bixby pioneered several dozen constructions that required specific functionality-toughness, durability, stiffness, formability at a wide range of temperatures at multiple gauges and lightweight. Those laminate core constructions required the ability to develop unique performing extruded cores that bond to a broad number of substrates used in footwear applications like leather, natural fiber and synthetic textiles, foams, reinforcing fabrics, fiber board and other plastic sheet. A product's success depended on a broad understanding of polymers, additives, adhesive hot melts, textiles and reinforcements and how they can be laminated in-process and bonded to disparate substrates in our customer's processes. Today, that complete materials, process, and application development knowledge is applied broadly to solve problems in diverse and challenging new extruded film, sheet and laminate markets."
Dennis Lauzon, Bixby Vice President Sales, shares his thoughts on how Bixby's history in footwear helps it to provide superior solutions for clients in a host of industries, "While we developed and implemented our plastic extrusion technology originally in the footwear industry, once this business began to migrate offshore, we have focused on custom extrusion projects and applied this expertise across a broad range of markets and applications further developing our competencies in the area of multilayer plastic extrusion. As a result, we now serve a multitude of innovative clients both in the US and abroad in industries ranging from medical, renewable energy, and industrial fabrics, to orthopedics, textiles, and, of course, footwear."