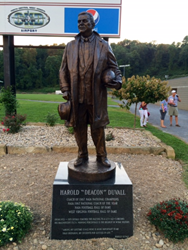 Fairmont, West Virginia (PRWEB) October 15, 2014
Deacon Duvall is not only a coaching legend from Fairmont State University, he has also become an inspiration to countless others.
Being a well known man, Duvall has had many accomplishments throughout his career. His football career was in the 1930s as the Falcon's quarterback. He is a part of the NAIA Hall of Fame as well as West Virginia Sports Writers Hall of Fame.
Duvall, known as a kind hearted and inspiring mentor, has clearly earned a statue to be created in his honor.
Matt Glenn, a Utah Native, was chosen to complete the task of creating the statue of Duvall. Glenn heavily researched Duvall in order to ensure that his statue not only captured his physical likeness, but also his personal characteristics as well. Since the announcement of the sculpture, others unconnected with Fairmont and it's history have had the opportunity to discover the motivating story that is Duvall's.