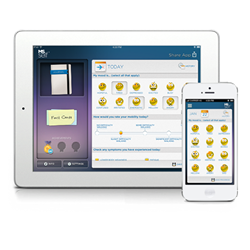 "The purpose of this app is to help people proactively manage the daily challenges they face living with MS. The updated app adds some innovative and personalized features to make the experience more user friendly and focused", said Rob Schrader, CEO
Irvine, CA (PRWEB) August 25, 2014
In partnership with Acorda Therapeutics, digital agency StudioPMG released Version 1.2 of the MS self App, a digital tool that may help those living with multiple sclerosis (MS).
The MS Mobile App won the 2014 Silver Communicator and the 2013 Platinum Marcom Consumer Application awards, and was recently updated. The MS Mobile App v1.2 is now available as a free download on the App Store.
"The purpose of this app is to help people proactively manage the daily challenges they face living with MS. The updated app adds some innovative and personalized features to make the experience more user friendly and focused", said Rob Schrader, CEO of StudioPMG.
"The updated app includes Achievement Badges that users can earn by journaling and completing various functions. There's even secret, hidden achievements needed to reach the ultimate MS self Champion status. Scoring Achievements make it a fun experience for the users while motivating them to get the most out of the app, " said Joe McBride, EVP of Digital Solutions at StudioPMG.
This app gives those living with MS 24/7 access to fun, user-friendly tools and MS-related information. In addition, it can be easily synced with the user's account and data between multiple iOS devices, allowing the user to set reminders, get notifications, and share with friends.
About StudioPMG
http://www.StudioPMG.com - Headquartered in the heart of Orange County CA, StudioPMG is a brand experience agency offering strategic digital marketing, software development, and creative services to clients in heavily regulated industries; including healthcare, pharmaceutical, biotechnology, automotive, and insurance and financial services. The digital agency's focus on bringing brands to life through innovative experiences, and its ability to engage audiences with uniquely crafted messaging, has earned the agency advertising industry recognition from The Clio Awards, The Webby Awards, The Stevies, The Telly Awards, and more. For over a decade, StudioPMG has leveraged its expertise in creative and strategy; mobile and web applications; paid, earned and owned media; experiential and live events; and analytics and integration to develop purposeful digital solutions that solidify the relationship between its clients' brands and their intended audience.