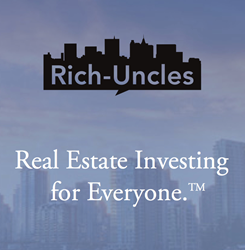 Rich-Uncles.com provides commercial real estate investment access to the true Crowd - the tens of millions of Americans who have been historically shut out from participating in real estate investing
Newport Beach, CA (PRWEB) August 26, 2014
Real Estate Crowdfunding platform http://rich-uncles.com has announced that it has purchased a Chase Bank building located in The Crossings shopping center of Antioch, CA. The purchase price was $3.78 million.
"We are very pleased to add the Chase Bank property to our growing Rich-Uncles.com portfolio," stated Harold Hofer, CEO of Rich-Uncles.com. "Current cash flow from this investment will exceed 9%; and including the annual principal paid on the property's mortgage, the current yield is roughly 11%. Our 7.5% annual dividend payable to our shareholders will continue unabated."
The Crossings is a contemporary, fully leased shopping center anchored by Safeway and Rite Aid. Chase Bank occupies a separate street-fronting building within The Crossings. Antioch has over 100,000 residents and is part of Contra Costa County in the "East Bay" region of the San Francisco Bay Area.
Rich-Uncles.com offers real estate equity investments in the form of a Real Estate Investment Trust (REIT) to smaller, non-accredited investors via its innovative Crowdfunding web site. "We are the only Real Estate Crowdfunding platform exclusively dedicated to non-millionaire Americans. Rich-Uncles.com provides commercial real estate investment access to the true Crowd - the tens of millions of Americans who have been historically shut out from participating in real estate investing," explained Hofer.
About Rich-Uncles.com
Rich-Uncles.com is a division of Nexregen, LLC. Nexregen is the Advisor to Nexregen Real Estate Investment Trust I, a REIT whose shares are available for sale to the public in the State of California via the Rich-Uncles.com real estate Crowdfunding platform, pursuant to a Permit issued by the California Department of Business Oversight. Within the United States, a prospective Nexregen REIT I investor must be a resident of the State of California and either earn $75,000 per year or have a net worth of $250,000 (excluding primary residence). Shares in Nexregen REIT I sold outside of the United States are subject to foreign securities laws.
Rich-Uncles.com believes that it is the largest on-line Crowdfunding platform exclusively marketing real estate investment interests to smaller, non-accredited investors.
Rich-Uncles.com – Real Estate Investing for the Rest of Us