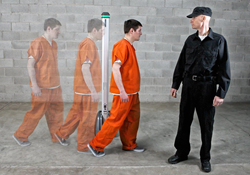 Cellsense is honored to be endorsed by the National Sheriffs' Association in their mission to support law enforcement professionals
Lisle, IL (PRWEB) August 23, 2014
Cellsense, the leading cell phone contraband detector for prisons, is proud to announce its endorsement by the National Sheriffs' Association. Only seven other organizations have received this highest level of support from the National Sheriffs' Association.
Sheriffs and law enforcement professionals are dedicated to public safety including safety in prisons and jails. Inmates smuggle contraband cell phones to conduct illicit activities including intimidating witnesses, organizing crimes and plotting escapes from behind bars. "Cellsense detects weapons and all cell phones, even phones that are switched off or concealed in a body cavity" according to Dr. Simon Goodyear, CEO for Metrasens, maker of Cellsense.
Goodyear says, "Cellsense is honored to be endorsed by the National Sheriffs' Association in their mission to support law enforcement professionals. Sheriff Aaron Kennard, Executive Director of the National Sheriffs' Association adds, "The endorsement of Cellsense by the National Sheriffs' Association reflects our shared goals of enhancing safety for law enforcement professionals and the general public."
About the National Sheriffs' Association
The National Sheriffs' Association (NSA) is the one of the largest association of law enforcement professionals in the United States, representing more than 3,000 elected sheriffs across the nation, and a total membership of more than 20,000. NSA is a non-profit organization dedicated to raising the level of professionalism among sheriffs, their deputies, and others in the field of criminal justice and public safety. Throughout its seventy-year history, NSA has served as an information clearinghouse for sheriffs, deputies, chiefs of police, other law enforcement professionals, state governments and the federal government.
http://www.sheriffs.org
About Cellsense
Cellsense provides complete innovative security solutions for cell phone and contraband detection. Designed and manufactured by Metrasens, Cellsense was invented by military scientists with backgrounds in landmine and submarine detection. Cellsense products are deployed in correctional and police facilities in over 20 states, worldwide embassies, high-impact government buildings and other commercial security applications. Cellsense protects correctional facilities, security personnel and the public around the world from the dangers of smuggled inmate cell phones and weapons.