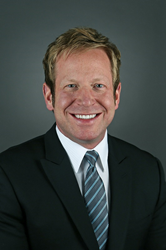 We are very excited that Mr. Comer is joining the Sitka Community Hospital team as our new chief executive officer.
Lenexa, KS (PRWEB) August 25, 2014
After conducting a nationwide executive search led by healthcare leadership solutions firm B. E. Smith, Sitka Community Hospital in Sitka, Alaska, has hired Jeff Comer as chief executive officer. A veteran healthcare executive with more than 20 years of leadership experience, Comer will assume his new duties at Sitka Community Hospital on September 15.
"We are very excited that Mr. Comer is joining the Sitka Community Hospital team as our new chief executive officer. The Hospital Board worked with B. E. Smith to conduct a nationwide search and valued the input from the employees of the hospital and the community to make this selection. It is our expectation that the skills and experience Mr. Comer brings to Sitka Community Hospital will enable us to continue the compassionate and competent care we have all come to expect," said Celeste Tydingco, president of the Sitka Community Hospital Board.
Formerly, Comer served as chief executive officer of Arizona General Hospitals and The Surgical Hospital of Phoenix in Phoenix, Ariz., providing leadership and strategic direction for multiple hospitals, free standing emergency rooms and surgical hospital management companies. Comer also held the role of senior vice president of operations at Nueterra Healthcare in Kansas City, Kan., where he was responsible for over 30 hospitals and ambulatory surgery centers. He also served as chief executive officer for two Tenet Health Hospitals, Tenet Whittier Hospital Medical Center in Whittier, Calif., and Tenet Lake Mead Medical Center in Las Vegas, Nev.
"Sitka Community Hospital was seeking an experienced senior healthcare executive to provide strategic direction and vision to position the organization for continued growth in the new healthcare reform environment," said Kathy Noland, vice president of senior executive search for B. E. Smith, the healthcare executive search firm who conducted the nationwide CEO search for Sitka Community Hospital. "Jeff's experience and leadership style were the perfect fit."
Comer earned a Master of Health Care Administration from Washington University in St. Louis, Mo. and a Bachelor of Psychology from Arizona State University in Phoenix, Ariz. He is a certified healthcare executive through the American College of Healthcare Executives (ACHE). He and his wife Mariah, a personal fitness trainer and non-profit manager, are excited to become very active members of the Sitka community.
About Sitka Community Hospital:
Sitka Community Hospital is proud to serve the healthcare needs of the close-knit community of Sitka, Alaska since 1956. The facility offers a full range of healthcare services including general medical care, surgery, 24/7 emergency room, laboratory, radiology, rehabilitative services, outpatient clinic, home health, infusion therapy, visiting specialists and long-term care. For more information, visit http://www.sitkahospital.org.
About B. E. Smith:
Founded in 1978, B. E. Smith is a full-service healthcare executive search firm and the top-ranked provider of senior-level leadership services including Interim Leadership, Executive Search and Management Consulting. Veteran healthcare recruiters and regional healthcare experts partner with each client to create customized solutions. B. E. Smith's proven methodology has resulted in the recent placement of more than 900 leaders into healthcare organizations worldwide. The firm utilizes a comprehensive sourcing strategy incorporating the latest marketing techniques, association partnerships, social networking and one of the largest databases of skilled senior-level healthcare executives in the industry to deliver immediate results in today's complex healthcare environment. For more information, visit BESmith.com or call 855-254-8261.