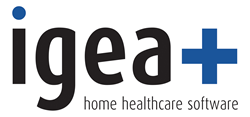 Our Point of Care solution is tailored to meet the needs of on-the-go home health clinicians who don't always have access to the internet.
San Rafael, CA (PRWEB) August 26, 2014
Igea Software, a leading provider of web based home health software designed to support home healthcare agency growth, today launched iPOC® Offline, its new Point of Care Offline solution.
"More and more, clinicians rely on accurate, timely information from their Point of Care software on a mobile device to deliver high quality care," states Igea Software President Pablo Buki. "Our new solution is tailored to meet the needs of on-the-go clinicians who don't always have access to the internet. We're pleased that patients in rural areas or low internet coverage areas now have the same access to high quality, home healthcare."
iPOC® Offline leverages the features and workflow of the proven flagship Point of Care (iPOC), delivering an experience that's simple, intuitive and engaging for users while providing billers with accurate information and owners the data they need to manage their business. Using the same workflow as Igea Point of Care, clinicians need no additional training as the software seamlessly alternates between iPOC® Offline and iPOC® Online based on the level of internet connection. The new product augments Igea HHC by offering immediate access to critical clinician forms -including Oasis and 485- without the need to have an internet connection.
Distinguishing Features of iPOC® Offline:

Allows clinicians to complete home health patient visits using a phone or tablet without needing internet connectivity
Catches potential errors and prompts when needed
Optimizes nurse performance through streamlined workflow
Ensures standardization and consistency of patient care across the home health agency
Available for download immediately from igeasoftware.com, the new product is only accessible to authorized users from agencies that subscribe to iPOC® Offline.
About Igea Software
Igea Software is a recognized leader in innovation of home health care software for Certified Medicare, Private Duty and Multiple Branch agencies. For over a decade, customers across the US have trusted the Igea Software to help them provide quality care while growing their business. Information regarding Igea Software is available at http://www.igeasoftware.com.