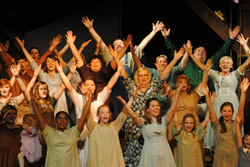 Colquitt, Georgia (PRWEB) August 24, 2014
For more than 20 years, Swamp Gravy has been telling the true stories of Southwest Georgia with grace, humor, and a candid honesty that is at once authentically Southern and universally relatable. "Swamp Gravy: Lost & Found" continues this tradition, weaving tales of items lost, searches made, and connections found as seen through the eyes of unforgettable characters.
Equally unforgettable are the people who bring the production to life. "Swamp Gravy" isn't performed by a company of professionally trained actors, but by nearly 100 volunteers from within the community. These passionate people range in age from toddler to senior, and live the stories they tell - in some cases, literally. The stories have been collected from them, from their families, from their friends and neighbors, and their love for and connection to their community is played out in every performance.
A fractious monkey named Archie makes trouble for an affable Sam, when sticky paws lead to finger-pointing. Grace must decide whether the troubled relationship with her adoptive mother is worth saving, or if she should seek out the birth mother she's never met but always dreamed of. Dawn embarks on a frantic search for her own family, scattered in the wake of Hurricane Katrina. Add in a mix of people losing, finding, and borrowing everything from their dignity to their false teeth, and "Swamp Gravy: Lost & Found" becomes a recipe that will warm the hearts of the whole family.
"Swamp Gravy: Lost & Found" runs at Cotton Hall Theater in Colquitt, Georgia October 3, 4, 10, 11, 17, 18, 24, 25 2014 and March 6, 7, 13, 14, 20, 21, 27 and 28 2015. Performances at 7:30 on Fridays and 2:00 and 5:30 Saturdays. Tickets are just $22 for individuals, with group rates available. Tickets can be purchased at http://www.swampgravy.com or by calling 229-758-5450.