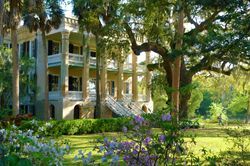 The springtime is one of the best times to experience small ship cruising with American Cruise Lines. - Timothy Beebe, Vice President, American Cruise Lines
Guilford, CT (PRWEB) August 25, 2014
American Cruise Lines (http://www.americancruiselines.com), operator of the newest riverboats and small cruise ships in the United States, announced today its Spring Cruise Collection, a various selection of cruises handpicked to showcase the beautiful 2015 spring season. Cruise itineraries include Puget Sound & San Juan Islands, the Lower Mississippi River, Historic South & Golden Isles, Columbia & Snake Rivers and Great Rivers of Florida.
Puget Sound & San Juan Islands: Guests will leave rejuvenated after eight days enjoying the delicious crisp springtime air and blooming tulips around Puget Sound. They'll tour parts of Olympic National Park, shop in Friday Harbor, and see orcas playing, all set to a backdrop of mountains alive with the colors of spring. Also featuring a guided tour of Butchart Gardens, guests will stroll through the colorful flower-lined stone paths of this world premier show garden. Both refreshing and enlightening, this itinerary is perfect for a relaxing springtime adventure. Featured Dates: April 25, May 2
Lower Mississippi River: Springtime cruising on the Mississippi River is a spectacular time to experience the American Heartland. Historic river towns come alive as sprawling acres of gardens bloom with regional flora. While in Louisiana, guests will delight in the history and charm of Oak Alley Plantation where they are welcomed by docents in period clothing and cool glasses of mint julep. On the way to historic towns such as Vicksburg and Baton Rouge, guests enjoy a relaxing journey aboard the elegant Queen of the Mississippi, their minds wandering back in time on this authentic riverboat, as they enjoy the highest level of service and comfort on the river. Featured Dates: March 14, May 30 (New Orleans Roundtrip)
Historic South & Golden Isles: Spring in the South is an awakening of color and wildlife. Azaleas line shady lanes and plantation gardens erupt with color. Migratory birds and waterfowl soar above while guests travel through the vivacity of spring on the Intracoastal Waterway, visiting the historically-rich cities of Savannah, Charleston and Hilton Head. They will discover the nearly uninhabited Sapelo Island off the coast of Georgia, and when in Savannah, a trolley will take guests on a leisurely tour of the city's Historic and Victorian Districts. Dates: March 28, April 4 (Ship: Independence)
Columbia & Snake Rivers: Aboard Queen of the West, an authentic paddlewheeler, guests are introduced to the stunning springtime beauty of the Pacific Northwest and its rich tapestry of ever-changing landscapes, complete with deep river canyons, lush forested slopes and sparkling waterfalls. The itinerary showcases the Cruise Local. Eat Local program with locally sourced seafood, produce, and Columbia Valley wines. Guests also visit Multnomah Falls, the second largest waterfall in the U.S., and Mount St. Helens on an excursion to the Johnston Ridge Observatory. Featured Dates: April 11, April 25
Great Rivers of Florida: This cruise along the St. Johns River is the perfect escape to a tropical paradise. In the springtime, Florida is a botanical haven, with bright flowers amid the palm trees that border the river. Nature enthusiasts will enjoy close-up views of indigenous wildlife from the top deck of the ship, including manatee and alligators. This cruise also features an exploration of Florida's Spanish heritage. On a narrated tram tour of St. Augustine, guests will see the impressive centuries-old churches, mansions and hotels of this historic city. A guided boat tour of Amelia Island allows for up-close and personal exploration of the natural surroundings, wildlife, lighthouses and historical sites, including Fort Clinch. Featured Dates: March 28, April 4
"The springtime is one of the best times to experience small ship cruising with American Cruise Lines," said Timothy Beebe, Vice President of American Cruise Lines. "This particular collection rounds up a selection of unique itineraries which sail through some of the most beautiful places in the U.S. Each cruise offers an experience unlike any other."
About American Cruise Lines
American Cruise Lines is the largest U.S. cruise company and operates the newest fleet of riverboats and small cruise ships on more than 35 itineraries around the country. The line is known for working closely with guests and travel agents before, during, and after a cruise to create a highly personalized cruise experience. Long established and deeply experienced in cruise travel, American Cruise Lines has most recently received world-wide recognition as the first line to revive paddlewheel river cruising in America. To learn more about American Cruise Lines, visit http://www.americancruiselines.com or call 800-814-6880. Find us on Facebook at http://www.facebook.com/americancruiselines or follow us on Twitter at http://www.twitter.com/american_cruise.
###