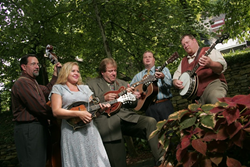 ...music rooted in bluegrass, rock, soul, country, and gospel can be heard from porches in small towns to concert stadiums in burgeoning cities.
Nashville, TN (PRWEB) August 25, 2014
If there's one place travelers can get a music smorgasbord, it's Tennessee. In each corner of the state and areas in between, music rooted in bluegrass, rock, soul, country, and gospel can be heard from porches in small towns to concert stadiums in burgeoning cities. From the nation's biggest Labor Day celebration in Knoxville to celebrating local and national talent in Nashville and Memphis, close out summer this Labor Day weekend sampling a fine musical variety that is only made in Tennessee.
EAST
Be one of the hundreds of thousands of people who make the pilgrimage to Knoxville's downtown for the nation's largest Labor Day Weekend fireworks show, Boomsday with fireworks taking off 9 p.m. Aug. 30 over the Tennessee River. More fireworks will be presented than in previous years, making Boomsday bigger and better. Top-notch entertainment will be provided by country music star Rodney Atkins, country-pop duo Native Run, and Knoxville-based Black Lillies.Entertainment begins at 3 p.m.
Southern Gospel takes center stage during the National Southern Gospel & Harvest Celebration presented by Humana Sept. 22 through Nov. 1 at Dollywood. More than 300 concerts will take place, all free with park admission. Performances in the Celebrity Theater will include Guy Penrod, Gordon Mote, The Kingsmen, and The Perrys. Pines Theater will welcome The Bowling Family, The Martins, Freedom Quartet and The Cavaliers. Finally, the Showstreet Theater will host The Taylors, Mark Bishop, and Old Paths Quartet.
MIDDLE
Catch big name artists like Ingrid Michaelson and bands like Capital Cities and Cage the Elephant at this year's Live on the Green concert series Aug. 28, Sept. 4-6 on the Public Square in Nashville. The series is local, environmentally friendly, and free as a way to celebrate the city's musical variety and emerging talent. Local talent and national artists merge to create one last big summer bash that draws approx. 72,000 people. Past artists include The Delta Saints, The Apache Relay, Alabama Shakes, and Moon Taxi.
See the timeless and talented Loretta Lynn perform during her annual Labor Day Concert Weekend Aug. 30-31 at her ranch in Hurricane Mills. Spend the weekend camping or have a rustic, quiet stay in one of the cabins. Hurricane Creek is perfect for a kayak, canoe, or tubing adventure. Visit Western Town and dance to the live music happening all afternoon. Loretta Lynn will perform 8 p.m. Saturday night. For more information, call 931-296-7700.
WEST
Celebrate old-time string music with the Casey Jones Village Old-Time Music Festival 9 a.m. to 5 p.m. Sept. 13 at Casey Jones Village in Jackson. Open jams, and performances by the Jackson Area Plectral Society will take place. The society participates in jam sessions with dulcimers, bass, Dobro, harmonica, fiddle, guitar and any other non-electric instruments, preserving the heritage and honoring the ancient influences of today's popular music.
Bobby Rush, Americana musician who created "folk-funk," will be honored at this year's Memphis Music & Heritage Festival 2014 11 a.m. to 10 p.m. Aug. 30-31 on Main Street in downtown Memphis. The event is free and will feature hundreds of local and regional musicians, dancers, artists, and more. Learn about the music that defined the culture of the Memphis/Delta region with five stages that will showcase musical roots with modern twists. Performances by Bobby Rush, Al Kapone, Sweet Angel, The Three Kings, The Mellowtones, London Fog, and Barbara Blue among others will take place.
Make even more Tennessee music memories by visiting tnvacation.com and join other Tennessee travelers by following "TNVacation" on Facebook, Twitter, Pinterest, Instagram and YouTube.
# # #