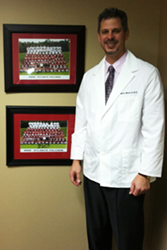 Buford, GA (PRWEB) August 22, 2014
Buford, GA Dentist, Dr. Moore is one of the first dentists in Gwinnett County to have the cutting-edge Cone Beam imaging technology. The process of replacing missing teeth is precision work, and cone beam x-rays give Dr. Moore highly accurate images of the teeth and the bony structures that support them.
Traditional x-rays use more radiation than Cone Beam, as its scattered beams pass through the body in a disorganized fan-shaped pattern. Cone Beam computerized tomography focuses the x-rays in a narrow cone-shaped pattern, allowing hundreds of images to be captured in less a minute, using less radiation. With specialized computer software, these images are collated and combined to create three-dimensional renderings of hard and soft tissue.
For patients who want to replace missing teeth, dental implants can offer the chance of normal dental appearance and function. Dr. Moore can create an individualized treatment plan for implant patients based on information learned from the Cone Beam CT scan, such as bone density, the health of nearby teeth, and location of facial nerves.
Patients wanting to learn more about Cone Beam imaging technology, dental implants, and the services offered by Dr. Moore can visit his website at http://www.smilemooredentistry.com, or call (770) 545-6141.
About the Doctor
Dr. Randolph S. Moore is a general dentist offering personalized dental care for patients in the Buford, GA area for over 20 years. Dr. Moore received his degree from the University of Alabama in Birmingham, and completed his residency at the Veterans Hospital in Birmingham. Dr. Moore is active in the dentistry field and is a member of the Georgia Dental Association, the American Dental Association, American General Dentistry, American Academy of Cosmetic Dentistry and ICOI (International Congress of Oral Implantologists). To learn more about Dr. Moore and his dental services visit their website at http://www.smilemooredentistry.com/, or call (770) 545-6141.