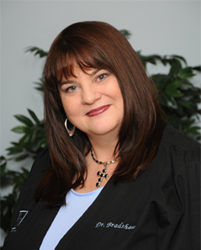 The Woodlands, TX (PRWEB) August 22, 2014
Dr. Gayle Bradshaw of Bradshaw Periodontics delivers the latest in innovative dental care to residents in need of tooth replacement in The Woodlands, TX with dental implants by utilizing Piezosurgery®, an advanced technique that reduces the impact to soft tissue during the process of cutting into jaw bone when placing implants. Additionally, Piezosurgery® can create more precise cuts to improve the end result of the implant surgery and help alleviate some of the discomfort typically associated with this procedure.
People may be in need of tooth replacement for many reasons. Trauma, severe gum disease, and decay are the common causes of missing teeth in adults. Patients who wish to replace missing teeth in the The Woodlands with dental implants may sometimes be concerned about the process and associated pain. Piezosurgery® can help to reduce that pain. Standard jaw bone cutting procedures result in trauma to muscles and nerves nearby which induce much of the pain that patients experience. By minimizing the impact to additional tissue, pain can also be minimized. Bleeding is lessened and recovery times are shorter than with other treatment processes. This can help to make many people feel more confident in proceeding with an implant procedure.
In addition to preventing disruption to nearby soft tissue, Piezosurgery® prevents against the loss of some healthy bone. This can assist in keeping jaw bone integrity at its maximum for long term support of dental implants and overall cosmetic jaw structure, another important factor when replacing teeth in The Woodlands with dental implants. When gaps from missing teeth are allowed to remain for extended periods of time, the bone in the jaw can diminish and lead to a misshapen look, drifting of remaining teeth, and hamper both speaking and eating abilities. This makes implants a highly important means of tooth replacement, as they can help guard against these factors.
Dr. Gayle Bradshaw and her team at Bradshaw Periodontics are proud to offer Piezosurgery® along with many other cutting edge procedures. Their commitment to patient care and comfort is evidenced by the adoption of minimally invasive technologies. If you are interested in learning more about implant procedures and Piezosurgery®, visit http://www.bradshawperiodontics.com or call Dr. Bradshaw's office to schedule an appointment today.
About The Doctor
Bradshaw Periodontics is a periodontal practice offering patients personalized dental care for The Woodlands, Texas since 1998. Dr. Gayle Bradshaw graduated Magna Cum Laude in 1994 from The University of Texas Health Science Center San Antonio Dental School. Dr. Bradshaw and her family moved to Houston to complete her Master's Degree in periodontal surgery at The University of Texas Dental Branch where she completed her studies in 1998. In 2000, she earned her Board Certification from the American Board of Periodontology. Dr. Bradshaw is part of one percent of dental professionals providing the LANAP® FDA cleared laser procedure for gum disease and periodontal treatment. To learn more about Bradshaw Periodontics and their dental services, visit their website at http://www.bradshawperiodontics.com and call (281) 377-8409.