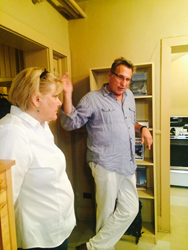 Chicago, IL (PRWEB) August 22, 2014
As news of flood damage to the Charnley-Persky House spread, friends of the Society of Architectural Historians (SAH) have offered their support as volunteers to assist in cleanup and with monetary support. SAH board member Cynthia Weese, FAIA, and her husband, Ben Weese, FAIA, have made a Challenge Grant of $10,000 for Charnley-Persky House recovery and ongoing restoration work. Every dollar donated to the house, up to $10,000, will be matched by the Weese grant.
"The Charnley-Persky House is a jewel of Chicago's historic architecture. As architects involved in historic preservation for decades, we value its presence and the work SAH is doing to maintain it. We hope that this grant will help with the immediate repairs and ongoing restoration of the building," said Cynthia Weese.
The flooding damaged an area spanning from the second-floor powder room down to the basement storage room. The eastern side of the living room library on the first floor suffered the most damage. A large portion of the ceiling had to be removed due to water damage.
Restoration architect John Eifler is advising SAH as it works with professionals to make repairs. Plumbers today ran a camera 46 feet down the stack before hitting an unknown obstruction outside of the house's drainage system. ServiceMaster is on-site today, working to dry out the walls between the basement and second floor and the living room ceiling, more of which needed to be removed. Once necessary repairs are made, the walls and ceiling will be restored and repainted.
Anyone wishing to support the restoration of the Charnley-Persky House may donate online at sah.org or send a check to the Charnley-Persky House Museum Foundation, at 1365 N. Astor Street, Chicago, IL 60610.
Charnley-Persky House Museum Foundation is a 509(a)(3) supporting organization that serves the educational mission of the Society of Architectural Historians. All donations made to Charnley-Persky House are tax deductible.
For more information about donating, please contact SAH Director of Development Carolyn Garrett, at 312-573-1365 or cgarrett(at)sah(dot)org.
Founded at Harvard in 1940, the Society of Architectural Historians is a nonprofit membership organization that promotes the study, interpretation and conservation of architecture, design, landscapes and urbanism worldwide. SAH serves a network of local, national and international institutions and individuals who, by vocation or avocation, focus on the built environment and its role in shaping contemporary life. Housed in the Charnley-Persky House since 1995, SAH uses the house to promote meaningful public engagement with the history of the built environment through advocacy efforts, print and online publications, and local, national and international programs.