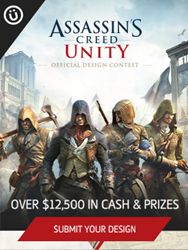 Design By Humans Assassin's Creed Unity Contest with over $12,500 in cash and prizes
Chico, CA (PRWEB) August 25, 2014
In a contest format with fan voting and Ubisoft's creative team input, Design By Humans is looking for some killer designs inspired by Assassin's Creed Unity. Artists can ignite their imagination with imagery from the game's soaring gothic façade of Notre Dame, the razor edge of the guillotine and the feeling of a city embroiled in an uprising to overthrow a tyrannical regime. Design By Humans artists will be challenged to start an art revolution that will make the Assassins want to trade in their hoods for some new threads.
Set in a once-magnificent Paris, Assassin's Creed Unity plunges into the terror of the 1789 French Revolution and features the most dense and immersive Assassin's Creed city ever created. Through the streets of Paris, the starving inhabitants are set to take up arms for freedom and equality. In this time of chaos and brutality, a young man named Arno, wounded by the loss of those he loved, sets out on a deadly path of redemption. Arno's pursuit throws him into the middle of a ruthless struggle for the fate of a nation and transforms him into a true Master Assassin.
Design By Humans Assassin's Creed Unity Contest
Over the course of the next ten weeks, artists from around can submit their T-shirt designs to win a combined $12,500 in cash, as well as exclusive Assassin's Creed prizes. The submission period runs from August 25 through September 17 at 11:59 pm (PDT), encompassing several rounds of submissions and voting by the Design By Humans community.
The contest will culminate in the selection of five winners the week of October 27, to coincide with the release of Assassin's Creed Unity available on October 28 for next-gen consoles and Windows PC. As each of the five winning designs is announced, they will become immediately available for purchase on the Design By Humans website.
First Prize
$3,500 cash, Assassin's Creed Unity & Assassin's Creed Rogue + Season Pass & Additional Content
Second Prize
$3,000 cash, Assassin's Creed Unity & Assassin's Creed Rogue + Season Pass & Additional Content
Third Prize
$2,500 cash, Assassin's Creed Unity & Assassin's Creed Rogue + Season Pass & Additional Content
Fourth Prize
$2,000 cash, Assassin's Creed Unity & Assassin's Creed Rogues + Season Pass & Additional Content
Fifth Prize
$1,500 cash, Assassin's Creed Unity & Assassin's Creed Rogue + Season Pass & Additional Content
Bonus Prize:
Designers are also invited to submit Work-in-Progress videos to document the creation of their submission. The best submission, as judged by Design By Humans, will receive a $50 gift card to the Design By Humans store.
Official contest rules available at http://www.designbyhumans.com/contest/assassins-creed-unity/
About Ubisoft
Ubisoft is a leading creator, publisher and distributor of interactive entertainment and services, with a rich portfolio of world-renowned brands, including Assassin's Creed, Just Dance, Tom Clancy's video game series, Rayman, Far Cry and Watch Dogs. The teams throughout Ubisoft's worldwide network of studios and business offices are committed to delivering original and memorable gaming experiences across all popular platforms, including consoles, mobile phones, tablets and PCs. For the 2013–14 fiscal year Ubisoft generated sales of €1,007 million. To learn more, please visit http://www.ubisoftgroup.com.
About Design By Humans
Design By Humans was started in 2007 with the simple vision of bringing artists from around the globe together to give them a platform to produce wearable art that tells a story, strengthens humanity and inspires life through creativity and design. The DBH Collective initiative is inspiring amazing artists and giving a unique foundation to share artwork through a personal online storefront. Additionally, proceeds from each sale go directly to the artists, which allows them to continue creating art.
© 2014 Ubisoft Entertainment. All Rights Reserved. Assassin's Creed, Ubisoft, and the Ubisoft logo are trademarks of Ubisoft Entertainment in the US and/or other countries.
###
If you'd like more information about this topic, or to schedule an interview with Jeff Sierra, please call Lindsey 8 am to 1 pm at +855 333 9836 or email press(at)designbyhumans(dot)com.