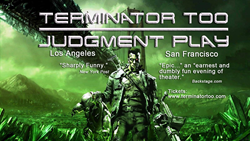 "EPIC!" and an "earnest and dumbly fun evening of theater." – Backstage
Los Angeles, CA (PRWEB) August 25, 2014
Jamie Keeling's Point Break LIVE! celebrates ten years as Los Angeles' lauded and longest-running, absurdist, live-action, interactive and fully-immersive comedy stage production. Sister production, Terminator Too: Judgment Play, celebrates three years. Both productions, produced and directed by Thomas Blake's On The Fly Productions, who was dubbed LAWeekly's "Punk Theater Impresario" for his groundbreaking work in the Los Angeles theater scene, continues to play to standing room only crowds every weekend in both Los Angeles and on the first Friday of every month in San Francisco.
Point Break LIVE! is the lauded, hilarious, absurdist, live-action, interactive stage adaptation of the 1992 Keanu Reeves/Patrick Swayze extreme-sports blockbuster, Point Break, and the only play in the world that begs the most philosophical question posed to mankind; "Can You Keanu?" And before or after you "Keanu," ask yourself; Do you have what it takes to step into Arnold Schwarzenegger's meaty shoes to play the most renowned and beloved vigilante cybernetic organism in this or any other time/space continuum?
What makes these productions so popular for so long is because every show features a new unrehearsed actor (selected from the audience), playing the lead characters with their lines read off cue cards so as to capture either Keanu Reeves's raw acting talent in the role of 'Johnny Utah' or Arnold Schwarzenegger's Aryanesque Austrian-influenced acting awesomeness in the role of the 'Terminator.'
Called "So hideously over the top, you can't stop laughing" by the LA Weekly, Point Break LIVE! tells the story of former college-football-star-turned-FBI-agent, Johnny Utah, in pursuit of the surfing, bank robbing, skydiving, bare-hand-fighting adrenaline-junkie-cum-Zen-master Bodhi Sattva. Since its Seattle debut in 2003, Point Break LIVE! has 'rawked' sold out audiences and received rave reviews in Minneapolis, Chicago, New York City, Los Angeles, and San Francisco.
Point Break LIVE! features armed robbery, big-wave surfing, car chases, explosions, no less than two extended skydiving sequences and an indoor monsoon. The SFWeekly states, "Point Break LIVE! turns out to be a wild ride," because this "action" play offers a true cathartic experience, putting you in the water with the surfers, throwing you out the door of an airplane, and robbing you at gunpoint.
The audience doesn't just watch Point Break LIVE!; they are in it to the point HustlerofCulture.com proclaims "Point Break LIVE! is the Rocky Horror Picture Show for our generation."
In fact, there's so much action spilling forth from the stage, it has to be videoed and played through a real-time live feed on TV monitors set to the side of the stage. Via the "Keanu Kam™", the audience can keep track of the volunteer Keanu when the action bursts out onto the street! At the end of the performance, the "volunteer Keanu" is handed a VHS recording of his or her performance. Add in the hotness factor - surfer dudes and female stunt doubles - and you have a night of unrivaled exciting live theater entertainment.
Terminator Too: Judgment Play:
In the updated, lauded, hilarious and absurdist live-action, interactive stage production of the seminal 1991 classic science fiction action movie, Terminator 2, the Terminator joins forces with the Connors to kidnap and convince Mark Zuckerberg he must destroy Facebook before it becomes self-aware and annihilates civilization after processing all of humanity's knowledge, selfies, food porn photos and cat videos.
In Terminator Too: Judgment Play, the whole audience is transported back to the future as Human Resistance soldiers in the war against the machines. Every revolutionary and stylized James Cameron action sequence and special effect is lovingly and, kind of, carefully recreated LIVE and in true interactive and immersive 3D. With a production budget that spirals well into the hundreds of dollars, no expense is spared. Flying mechanized fighting units versus human warrior battles will rage, death-defying midair helicopter-grappling stunts amaze, truck, motorcycle and car chases dazzle and Terminators and Connors clash in hand-to-hand, life-or-death battles in asylum hallways to elevators where the fate of the human race hangs in the balance before (spoiler alert) the enemy is vanquished in a boiling pit of molten metal.
Recommended "Survival Kits™" are available to purchase at the concession or are included with VIP tickets and include a plastic emergency poncho to protect the viewers from the action that literally spills forth from the stage, as well as other perks.
Complete with actors zooming onto the stage from zip lines and repelling from the ceiling, car chases, sky diving and surfing sequences, super-soakers, fake blood, and delicious meatball and Turkinator sandwiches, both shows are action-packed, wet, interactive, loud, extreme, awesome and, according to the SFWeekly, "loud, hysterical and occasionally frightening."
The notoriety also lead to both productions being invited to perform at the Bonnaroo Music and Arts Festival, in Manchester, TN in July 2014, marking the first time in Bonnaroo's 12-year history that any kind of a theatrical stage production was invited to grace a stage at the massive four-day festival.
Point Break LIVE! and Terminator Too: Judgment Play can be retained for corporate parties, team building events, festivals and fairs and a bevy of other private and public functions and affairs.
Terminator Too: Judgment Play and Point Break LIVE! in Los Angeles and San Francisco.
Where:
Dragonfly Club, Hollywood, CA, every weekend.
DNA Lounge, San Francisco, CA, every first Friday of the month.
Tickets and More Info:
Terminator Too: Judgment Play - http://terminatortoo.com
Point Break LIVE! - http://www.pointbreaklive.com
For additional information, to request an interview with Thomas Blake of On the Fly Productions, or to inquire about reviewing either production in either Los Angeles or San Francisco, please contact Christopher Buttner, PRThatRocks.com, at 415-233-7350 or email chris(at)prthatrocks(dot)com. Point Break LIVE! photos graciously provided Tom Couture Photography: http://www.tomcouture.com