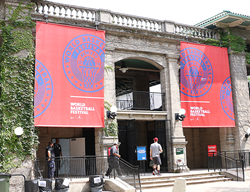 Chicago based printer Sunrise Digital provided all of the printed materials for the event. Sunrise collaborated with Nike to create the proper signage, which included both standard directional as well as decorative display graphics.
Chicago, IL (PRWEB) August 25, 2014
This August 13-16th, Nike, the Jordan Brand, and USA Basketball hosted the third-annual World Basketball Festival, a four-day event celebrating basketball which took place in Chicago, Illinois. The organizations are honored to celebrate the event in Chicago this year, a city so rich with basketball history, both in the community and with their legacy of professional players, including Michael Jordan himself. Chicago-based printer Sunrise Digital provided much of the printed materials for the event. Sunrise collaborated with Nike to create the proper signage, which included both standard directional as well as decorative display graphics. The directional signage ran the gamut from maps to vinyl mesh banners to eight foot tall totem signage. Sunrise helped Nike with their vision to display basketball uniforms and community portraits with customized signage on a variety of different materials.
Mesh vinyl banners were an integral part of the event's directional signage. They were used to show attendees the location of different exhibits and events as well as where to walk and where to park. The vinyl mesh can be printed in a variety of sizes from 54" wide to virtually any length. Sunrise printed the banners on wind resistant outdoor durable vinyl mesh banner material. The installation was as easy as simply using grommets and zip ties to attach the banners to existing metal hardware.
Another impressive display invention were the portable towers used as general information booths at the festival. The towers were made from lightweight coroplast material making them easily portable. Due to the triangular prism design, the towers allow for 360-degree visibility allowing many to look at the same time. The lug-on information panels can be switched in and out for different features and maps. All of the components are printed high-resolution for a polished look.
A vital component to this event was the rich history of both Nike and basketball in Chicago. One of the features to pay homage to this was a timeline display. Sunrise Digital fabricated all of the graphics for the display cases containing various Nike and Jordan memorabilia. They combined high-definition imaging with super sharp details and soft-touch lamination to both protect the ink and enhance the look. Letters were cut by employing intricate vinyl cutting machinery using both white and silver vinyl materials for a sleek, glossy finish.
One of the visual showstoppers for the festival was their photo wall feature prominently displaying images of members and fans of the USA Basketball teams. The panels were printed on 6mm aluminum DiBond for the ultimate in durability. Printing on their high-res UV flatbed presses, Sunrise was able to guarantee clean, sharp graphics with excellent ink adhesion that will not chip or fade. Another obstacle to building a graphic of such large proportions is making the seams unnoticable. This effect was accomplished using digital CNC-cutting to ensure perfect line-up between panels.
Sunrise Digital offers a wide variety of digital printing, cutting and laser engraving services. Being a G7 Qualified Master Printer, they adhere to the strictest quality standards for unmatched color accuracy and consistency. Large format graphics are printed with UV resistant ink, therefore the colors will not fade. Sunrise Digital specializes in superb product with turnaround times as fast as 48-hrs or even less to make any event deadline. Sunrise was a perfect fit for the World Basketball Festival hosted by Nike because of their expertise in not just a few, but all of the varying display products that were needed to pull off an event of this magnitude.
About Sunrise Digital
Sunrise Digital is an Inc. 5000 company established in 1988 and employs the most advanced equipment and technology, such as G7-certified HP Indigo and UV flatbed presses, laser engraving, and digital die-cutting, to create best-in-class color printing, short-run packaging, P.O.P. retail displays, and signage products. A privately-owned enterprise, the company is based in Chicago and sells products worldwide.