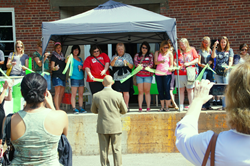 "These celebrations really underscore the impact RAFT has had on Colorado's education community over the past five years," said Stephanie Welsh, executive director of RAFT Colorado.
Denver, CO (PRWEB) August 25, 2014
Resource Area for Teaching (RAFT) Colorado marked five years in business this month. In celebration of this achievement, the unique, STEM- (science, technology, engineering, math) focused nonprofit education organization held four events over the past six weeks: a grand reopening kickoff at its new location, an educational, hands-on Symposium for Colorado educators, its annual Back to School Bash and a 10-cent book sale for members.
RAFT Grand Reopening – July 15
RAFT Colorado celebrated its grand reopening in a bigger and brighter location on July 15. Located at 3827 Steele Street in Denver, the warehouse features 29,000 square feet of store and professional development space. Colorado Lieutenant Governor Joseph Garcia and Carrie Morgridge with the Morgridge Family Foundation delivered remarks before welcoming all of the teachers in attendance to participate in a ribbon cutting. RAFT is a special place just for teachers and numerous comments were made on July 15 in appreciation of the new location's larger layout, integration of bulk materials, ideas, activity kits, expanded green room, as well as the lower priced and easier to use bagging system for purchases.
RAFT Symposium – July 22 – July 26
Over five days, more than 75 teachers attended the 2014 RAFT Symposium: Exploring Applications of Hands-on Learning. The Symposium took place in the RAFT Lab, which was furnished through furniture donations from IKEA and interactive whiteboards donated by the Morgridge Family Foundation. Volunteers from Prologis donated their time to paint the space. Sessions focused on such topics as using hands-on activities to engage students and differentiate and integrate learning in art, literacy and STEM. In addition to RAFT's education team and master teachers, numerous local organizations, including the Denver Children's Museum, Denver Museum of Nature and Science, Denver Art Museum and Anatomy in Clay led Symposium sessions.
Back to School Bash – August 2
In celebration of the organization's new space, RAFT's annual Back to School Bash drew dozens of Colorado teachers on August 2. Attendees took a record volume of materials, ideas and free giveaways back to their schools. Many of RAFT's Teacher Advisory Board (TAB) members were also in attendance to give tours of the warehouse and offer classroom management ideas.
Book Sale – August 15
RAFT's fifth anniversary ended with a bang on August 15 with a 10-cent book sale and free root beer floats. The floats were poured in glasses donated by Arby's. Each glass was designed with the Denver Broncos' helmet and the number 60 embossed along the outside. Sixty represents 60 months or the five years that RAFT has been in business. One teacher alone left the sale with 1,315 books!
"These celebrations really underscore the impact RAFT has had on Colorado's education community over the past five years," said Stephanie Welsh, executive director of RAFT Colorado. "We wouldn't be where we are today without the support of thousands of Colorado teachers, material donors, financial donors and volunteers who believe in our mission. Our new location offers an ideal launching pad for our next five years as we work to inspire teachers and improve student achievement."
RAFT is one of only three warehouses of its kind in the country and the only one located in Colorado. It's estimated that teachers spend an average of $500 of their own money every year on classroom materials. At RAFT, teachers are able to purchase unique items at costs 80-90 percent less than retail prices. The organization also offers activity kits, personal coaching, practical workshops and education institutes to help teachers incorporate hands-on learning activities that are in line with Colorado content standards.
RAFT gathers unwanted items ranging from VHS tapes and CDs to staple removers and water bottles and converts them into innovative learning activities for teachers to incorporate into their lesson plans. These materials are frequently donated by businesses, other nonprofit organizations and individuals. To date, RAFT has diverted well over 100,000 cubic feet of waste from landfills in Colorado.
Close to one third of RAFT's annual income comes from membership dues, professional development and sales of materials and activity kits. Additional support is provided by the Morgridge Family Foundation, grant funding, personal donations and individual and corporate volunteer programs. Anyone who is considered an educator – public, private and preschool teachers; licensed child care providers; and nonprofit community service groups such as Boy/Girl Scouts, libraries, summer camps and after school programs – can join RAFT as a member.
For more information on RAFT, including membership, donation and volunteer opportunities, please visit http://www.RAFTCOLORADO.org.