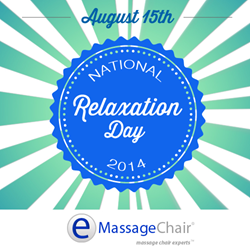 Emassagechair.com likes to think of Relaxation as not a day to celebrate, but a lifestyle that helps relax the mind, body, and soul.
Las Vegas, NV (PRWEB) August 26, 2014
National Relaxation Day, which took place on August 15th, is focused on helping people take a step back and relax. There's no question that many people live in an increasingly fast paced world, which at times it can seem overwhelming. People are well adapted to handling stress, mainly because it helps us take on many of life's challenges. But too much stress can be a very bad thing, causing high blood pressure, insomnia, which can eventually open the door to disease. National Relaxation Day is all about taking time for oneself to find ways to clear the mind, relax the body, and soothe the soul. Of course at Emassagechair.com they like to think of Relaxation as not a day to celebrate, but a lifestyle (by practicing different relaxation methods). Let's explore some great ideas on how to relax.
Probably one of the best ways to relax is to completely unplug. Being connected at all times can raise levels of stress and create bad habits that won't allow people to fully disengage, like checking emails and social media late at night in bed. For people at the office this can be done easily. A great example is to take a step back from your desk, and go for a brisk walk outdoors. Breathing in the fresh air and clearing ones mind is a great way for some quick relaxation. Need more time? Find a great place for lunch, preferably outdoors where one can be at peace with their thoughts and enjoy the world around them.
For the busy people out there who never seem to have a quiet moment, doing something completely opposite from their normal routine is a great way to unwind. Some people can't even fathom the idea of taking a nap, but this is a great way to help a person relax. For those who can't quite let themselves relax enough to fall asleep, research suggests that reading a good book, or favorite magazine will also help a person relax. Since stress is caused from both internal and external things in life, reading a book can help a person disengage. The same goes for watching a movie.
Some people think of relaxation as more of a ritual and a process that must completely isolate them in the experience. For this very reason visiting a Spa can be beneficial. Spas not only offer a wide variety of different ways to relax but they do so in a place where relaxation is the main focus. People can relax in a steam room, a sauna, or enjoy a wide variety of massage therapies. A full body massage can not only release tension, but also help the muscles recover from fatigue, which helps alleviate the stresses of everyday life.
Emassagechair.com wants to help everyone relax, each in his or her own special way. For people who prefer the comforts of massage as their relaxation method, shoppers can find a wide variety of massage chairs that will let them do this in the comfort of their own home. Zero Gravity chairs offer a scientifically designed recline that is perfect for helping people relax. Massage chairs like the Panasonic EP-MA73 offer a wide variety of deep tissue and full body massage techniques that are suited for people who want a full range massage experience.
Confused by all the different massage chairs out there? Relax, the massage chair experts at Emassagechair.com will help shoppers find the right chair to suit their needs.