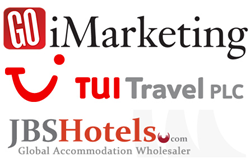 Thousand Oaks, CA (PRWEB) August 26, 2014
GOiMarketing Inc., a leading internet advertising and marketing company, will be presenting to JBS Hotels Group Sales Managers to discuss lead generation and sales opportunities within the Chinese market for USA travel.
President of and CEO of GOiMarketing Inc., Richard Uzelac is excited to be working ever closer with TUI Travel PLC and the JBS Group.
"JBS Hotels, now of TUI Travel PLC are the world leader in wholesale hotel bookings from China to the USA," said Uzelac. "We have had a long standing relationship with JBS Hotels building out their industry leading wholesale hotel booking engine and upgrading it for the past five years. This presentation will be designed to impart knowledge upon their industry leading sales team as to strategies to generate more leads and sales to that platform."
The presentation will include overviews of Internet Marketing, Search Engine Optimization (SEO), and utilizing Social Media to accomplish their sales goals.
About GOiMarketing
Over the past nine years, GOiMarketing has constantly endeavored to understand the internet marketing landscapes as it changes practically daily. They offer Online Advertising, Internet Optimization, Social Media Optimization, E-Commerce solutions, Website Design and Development, and a host of services to provide our Clients with the best programs to meet their goals.
For more information about online marketing and advertising benefits please contact GOiMarketing at: 1-866-736-1232.