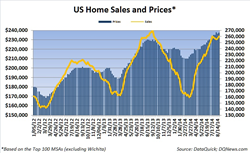 now is a good time to purchase a home before inventories dry up even further in the winter.
Chicago, IL (PRWEB) August 22, 2014
The week has ended on a very positive note for lender, Peoples Home Equity. First, July existing home sales were announced to have surpassed market expectations on Thursday morning, August 21st. Second, DQnews.com's "National Home Sales Snapshot" also announced on Thursday that weekly home sales and median home sale prices both increased.
The National Association of Realtors released their existing home sales numbers of 5.15 million for July which was pleasantly 2.5% higher than the market consensus of 5.02 million. This marks the 4th consecutive rise in existing home sales since March 2014. Peoples Home Equity mentioned in an August 21st release titled "Market Waiting to See Existing Home Sales Figures" that "If existing home sales outperform June then the market may be reminded just how well the housing market is recovering." Peoples Home Equity believes the market has been instilled with a great deal of confidence given these positive sale numbers.
Beside monthly sale figures, DQnews.com "National Home Sales Snapshot" showed this Thursday that home sales rose 1.6% week-over-week to 260,261. Weekly median home sale prices climbed 0.5% to $237,500. The gap between 2013 and 2014 weekly home sales widened however, from -0.7% two weeks ago to -2.7% for last week.
Peoples Home Equity thinks existing home sales still have another change to rise month over month in August. However, what is more important is if weekly home sales will be able to surpass their September levels. This may be a challenge for the market since mortgage rates are higher this year than last. However, 30-year fixed rates are still relatively lower than their highs of 2014 and while inventories are already low, Americans know that now is a good time to purchase a home before inventories dry up even further in the winter.
If in need of a mortgage, feel free to contact a Peoples Home Equity loan officer today at: 262-563-4026.