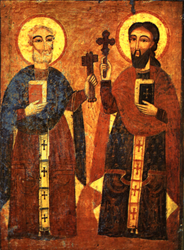 [Don't] allow the fees you pay a service provider to be used against you at the ballot box.
Washignton, DC (PRWEB) August 25, 2014
Payroll Cartel Dominates
In the payroll world, two mega-corporations with roughly two-thirds of the payroll market, have historically had enough clout to set terms and practices for the entire industry. Tru-Comp Payroll + HR aims to break their dominance with a unique mission-based strategy.
"We're intent on serving progressive organizations," says TCP+HR staffer Elmer Truck: "A big part of that is keeping progressive and working family dollars 'in the family.' If you promote a progressive agenda - paid for by your constituents and donors - it doesn't make sense to allow the fees you pay a service provider to be used against you at the ballot box."
A Better Way: Work That Matters!
With best-in-class products and services, Tru-Comp is determined to change how progressives and other non-profits look at the payroll industry.
"Paychex and ADP alone have a combined 1.3 million employer-clients," says Truck: "We estimate at least 130,000 of those are non-profits - of which about half fall into our family of progressives."
Tru-Comp is focused on transparent pricing and a mission-first structure: "We build our give-backs and sharing into the core of the business. We don't just give when we can afford it -- we give as a required part of our mission. And as a larger percentage of gross revenues than nearly any provider or corporation out there," says Truck.
Tru-Comp Payroll + HR serves entities that serve the community by doing, providing or creating "work that matters" -- we serve them with comprehensive solutions for managing payroll and related HR functions in support of their special missions and your teams.