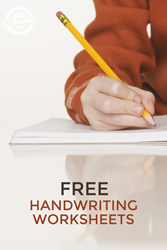 Let the kids practice curves and corners on fun prewriting sheets.
Dallas, Texas (PRWEB) August 23, 2014
Teach writing the fun way. Fun handwriting worksheets and cute lunchbox notes have been released on Kids Activities Blog. Adorable worksheets can make the next handwriting session a bit more exciting.
Kids Activities Blog is featuring a fun set of worksheets and activity sheets each week for every letter of the alphabet. The letter worksheets are great for beginning writers and even readers. Another set of large letter worksheets are perfect for kids to practice staying in the lines.
Cursive worksheets are for the more advanced writers. There are two levels of worksheets. Once the simple level is mastered, let the kids tackle the more advanced cursive worksheets.
Prewriting sheets are great for kids to practice curves and corners. The list of worksheets and activity sheets is endless.
Kids like encouragement at school. Encourage them with a little love note in their lunchbox. The encouragement notes come in all shapes and sizes.
Simply choose from among the 500 different notes, cut them out, and add a little personal note on the back. The kids will love the extra love in their lunchbox.
For detailed instructions and to get additional fun ideas, check out Kids Activities Blog this week. Come and get inspired to teach kids handwriting the fun way.
About Kids Activities Blog
Kids Activities Blog is a website created by two moms (who collectively have 9 children), Holly Homer and Rachel Miller. Their new book was published this spring by Page Street, 101 Kids Activities That Are the Bestest, Funnest Ever! Kids Activities Blog is an interactive website that publishes fun things to do with kids twice a day. It is an amazing resource for moms, dads, grandparents, caregivers and teachers to find kid-friendly activities that create memories and sneak learning into the fun.