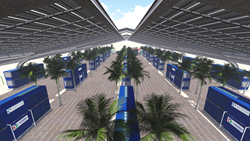 (PRWEB) August 23, 2014
The MPWMD Board of Directors voted on Monday, August 18th to approve the use of AWGs as a sole source of water for commercial and industrial properties. This was accomplished with the assistance of local architect, Ron Brown of Archworks, LLC in Carmel, California.
This is a historical moment, as this is the first time a water district in the State of California has approved this technology for use as an alternative water source. AWGs at this time can now be used as a sole source of water for commercial and industrial applications, as well as residential secondary buildings, within the MPWMD.
It is the goal of EcoloBlue to gain further approval to allow all properties to have cross-connection with municipal water, and allow primary residential properties a sole source application. EcoloBlue is actively working on reducing the power consumption of these machines, to be further cost effective. EcoloBlue hopes to see other Water Districts in the state follow suit.
Available for comment:
EcoloBlue Sales Department, 800-691-6043 x109
Ron Brown, EcoloBlue Dealer, 831-620-1352, ronbrown(at)archworks.com
About EcoloBlue:
EcoloBlue offers a sustainable product line with a major emphasis on renewable water creation, purification and delivery.
The EcoloBlue Industrial AWG's produces from up to 100 liters/26 gallons to 10,000 liters/2,600 gallons of water every day. These can also be incorporated into a Water Station producing up to 1,000,000 liters/260,000 gallons of water per day. Incorporating solar panels or any fuel generator will allow for water independence. EcoloBlue Industrial Units can be operated in a mobile or fixed environment.
EcoloBlue now introduces the All Contained (40ft container) Emergency solution. A self contained, powered, water generation, and bottling system that provides up to 2000 liters of pure drinking water daily from the humidity in the air. EcoloBlue's A.C.E. Container is designed for solutions such as on site emergency management at hospitals or large facilities, disaster relief, aid organization dispatch, and many others.
The EcoloBlue 30™ Series are sleek state-of-the-art atmospheric water generators (AWG) that eliminates sole reliance on municipal water systems, well water or any other standard water source. Air is the only water source required for the EcoloBlue 30™ Series Generators. Once it pulls humidity out of the air, it filters and purifies the water. The EcoloBlue 30™ Series Generators sustainably deliver a continuous supply of delicious, 99.9% pure water energy efficiently, and without plastic bottles.
For more information visit: EcoloBlue.com or EcoloBlueBlog.com or call 800-691-6043, Outside US +1-925-231-0206.