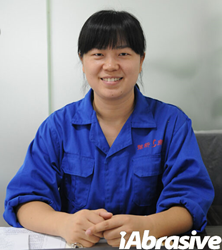 Zhengzhou, China (PRWEB) August 24, 2014
According to iAbrasive latest news, (http://www.iabrasive.com/articles/yuxin-quality-derived-from-production-not-detection) On July 29 iAbrasive's staff paid a field visit to Henan Yuxin Abrasives Co., Ltd., and the sales manager of Yuxin, Han Peng, accepted our interview.
Reputation of Yuxin
Located in Zhengzhou, the capital city of Henan Province, Henan Yuxin Abrasives Co., Ltd was founded in 1999 and specialized in producing black silicon carbide. Their products are classified into five groups, namely black silicon carbide for coated abrasives, bonded abrasives, grinding balls, refractory material, and black silicon carbide powder. Their products are exported to Korea, Japan, America, and other countries and have gained the recognition and praise of their clients. Speaking of the difference between their products and other brands, manager Han said frankly, "At present, the production technology and process of black silicon carbide in domestic is quite similar. Compared with other counterparts, our products have advantages of quality, and even customers have given us feedback that the stability of our products is higher." From raw material to finished products, Yuxin has set three detections: the detection of workers when finished products enter storage, the re-inspection of the checker, and the test before the product leaves the factory, guaranteeing the objective and fair inspection of data to ensure the 100% qualified rate. Additionally, Henan Yuxin has established a physics and chemical laboratory and that is equipped advanced testing devices. Their laboratories have passed the verification of the national registration laboratory. It is noted that besides those three inspections above, Yuxin tests raw materials as well. Sales manager Han stressed that "The perfect inspection system is only one aspect of quality assurance. The excellent product quality is derived from production, not detection. We have adopted high-end equipment and carried out strict standards of technology, management and detection which all make a contribution to our good reputation."
Complete Quality Traceability System
Looking around the workshops of Yuxin, the large number of devices has left a deep impression on us. After that, manager Han brought us to a special place in Yuxin. Opening the door, we saw several filled cabinets. Many paper bags were placed one by one in the cabinets. Manager Han told us that, they have built a complete product quality traceability system. From the purchase of raw materials to the finished product, every process has been recorded. Within 10 months, as for all their products, if clients have any question, they will retest any remaining delivery samples to find out specific reasons. In addition, each year Yuxin will do a parallel comparison test with White Dove Abrasive Co., Ltd and Zhengzhou Research Institute for Abrasives & Grinding Co., Ltd to guarantee the accuracy of their own laboratory data. That meticulous attitude also assists them in achieving success in black silicon carbide.
Implementation of Blue Ocean Strategy
As a senior sales manager Han knows the market better than anyone else in Yuxin. "Currently, in the refractory field, Henan Enterprises doesn't have distinct advantages, the market is close to saturation and the profit is not large, while in the grinding ball field, our products have great advantages. We have been engaged in that field for over ten years. Attributed to their high stability, our products are praised by customers. In this field, our clients are top buyers in the China abrasives industry, and all of them are loyal customers. Our customers have communicated with us that they have sometimes changed suppliers, but stability of products is not as good as that of our products. Up to now, we have established long-term and stable cooperation with those large buyers." Right now, Henan Yuxin is preparing the power siphon grading project, and the whole equipment is in the debugging phrase. Yuxin has provided a new strategy for all domestic abrasives manufacturers. With the development of the market, the competition is much fiercer in some fields. For the purpose of seizing he market, vicious competition and price wars are commonplace and harm a lots of suppliers and manufacturers. It would benefit them to learn from—Yuxin how to implement blue ocean strategy to place importance on the development of new products and a new market.
See more at: http://www.iabrasive.com/.