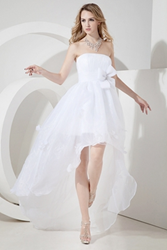 (PRWEB) August 25, 2014
Fancyflyingfox.com, an internationally popular designer and leader in the fashion industry, has recently added a new range of 2014 beach wedding dresses to its online category. Additionally, the company's development manager has announced that all these graceful items are offered at promotional prices; the current discount is up to 64% off.
The best thing about Fancyflyingfox.com is that all its top designers are working hard to create what clients actually need. After years of effort, it has become one of the leading brands in the global market. To meet the varied requirements of the international customers, the company's brand new beach wedding gowns are provided in various styles.
It is true that all the company's high quality products are ideal options for ladies who want to get fashionable outfits without spending a large sum of money. They are all made with comfortable materials.
"We are very excited to unveil the new selection of beach wedding outfits for ladies from around the world. The current special offer is launched to expand our global market, and we want to benefit more clients. In addition to wedding gowns, we want plenty of other beautiful items for sale. Many stylish ladies have found their dream dresses in our online store," the development manager says.
About Fancyflyingfox.com
Fancyflyingfox.com is the leading online retailer for wedding gowns, special event dresses, wedding party dresses, and accessories. Ladies will find a massive range of high-quality wedding dresses, evening/prom gowns, flower girl dresses and more. Fancyflyingfox.com provides hundreds of dedicated items for global buyers. Now, it is offering thousands of cheap items.
For more details about the company and its dresses, readers can visit http://www.fancyflyingfox.com/beach-wedding-dresses-c13/.