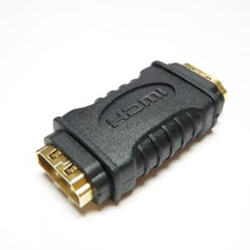 (PRWEB) August 23, 2014
Recently, Hiconn Electronics, the well-known electronics product manufacturer and retailer, has released a latest collection of HDMI adapters. In addition, the company has announced that all these brand new items are available at deeply discounted rates, up to 30% off.
"We have large quantities of HDMI adapters in stock at the moment. All of them are promised to be excellent. Being confident of our top experts and skilled workers, I highly recommend them to customers from around the world. Please note that the special offer will end on October 20, 2014," the CEO of the company says.
The followings are some detailed information about the company's hot HDMI adapters:
*Model NO.: SAHH104
*Material: Copper
*Interface Type: HDMI
*Export Markets: North America, South America, Eastern Europe, Western Europe
*Packing: Poly bag or Blister bag
*Standard: RoHs, UL
*Accepts a standard 19 pin male HDMI plug on both ends, which extends your HDMI cables
*Supports video resolutions up to 1920 x 1080 and data rates to 5Gbps
*Audio and video signal transfer is all digital and uncompressed while control signal transfer is inherently bi-directional
*Fully molded construction
*Black PVC body and overload
*100% coverage tinned steel shield
*24K gold-plated contacts
Now, thousands of high end products can be purchased at the company's online shop. A lot of its items have good market performance and have greatly stimulated the company's business growth in the past few months.
About Hiconn Electronics
Hiconn Electronics (Shenzhen Hiconn Electronics Co. Ltd.) is devoted to designing and manufacturing a wide range of connection cables and customized cable assemblies, offering many HDMI cables, VGA cables, SATA cables, USB cables, 1394 cables, DVI cables, SCSI (Small Computer System Interface) and more. For more information, please visit http://www.hiconn.net/.
Contact Person: James Yin (Sales Director)
Company Name: Shenzhen Hiconn Electronics Co., Ltd.
Address: Shenghua Building., Xixiang Road., Baoan District, Shenzhen, Guangdong Province, China
Zip Code: 518102
Tel: +86-755-8109 8345
Fax: +86-755-2779 3497