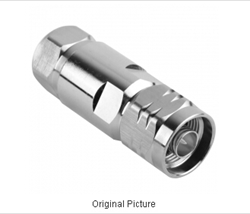 (PRWEB) August 23, 2014
Recently, RFcnn.com, an experienced company of various kinds of connector products, has announced its new N Type RF Connector selection. Aside from that, the company has stated that all these durable items are now available at discounted rates, up to 30% off.
"We are excited to release our new designs of N Type RF Connectors. With the fast development of creative projects, the demand for high quality connector products is increasing sharply. Therefore, our major officials took the decision to make the fresh collection. In the near future, we will unveil more high end devices from the international customers," the CEO of the company says.
At the company's one stop website, all visitors are treated as a VIP. Its online service team consists of several technical experts who have been working in the industry for decades. All its staff are required to work patiently. Amiable customer service is available around the clock.
Last but not least, all the company's N Type RF Connectors are made from secure materials. Its CEO promises that all of them will offer a great performance. As an innovation-based company, it insists on hiring delicate and creative workers. Every single piece of its products goes through smart designing, meticulous engineering and strict testing before they are delivered to the purchasers.
About LenoRF
LenoRF is an online supplier of high end electrical equipment. It is a China based company that aims to provide customers with high quality products at the lowest possible prices. Customers can try the company's products through sample orders with a long-term contract. Most customers come back soon after receiving their first deals.
More details about the company's useful products can be found at http://www.rfcnn.com/N-Male-RF-Connector-for-RG58-24.html.