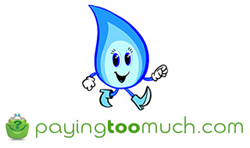 98% of comparisons have offered a saving
Chichester, West Sussex (PRWEB UK) 31 August 2014
As we approach the cooler Autumn months, things are starting to warm up in the consumer energy market according to comparison website PayingTooMuch.com, with smaller independents leading the market on price (and service!).
Michael Ward, Managing Director of PayingTooMuch.com says, "Whilst we're seeing the Big Six companies competing against each other, we're also seeing the smaller independents compete to be cheapest overall, which must be good news for those consumers willing to shop around and then being prepared to switch.
"During the first part of August, a staggering three quarters (75.5%) of switchers opted for smaller independent suppliers, starting to push the Big Six market share and influence downwards.
"A staggering 98% of comparisons have offered a saving during that period. Hopefully this will all lead to a much more competitive, active and open energy market going forwards but people must make the effort in the first place to benefit."
Stats are supplied by ukpower.co.uk, PayingTooMuch.com's energy partner which compares 23 different suppliers - USwitch compares to 18 suppliers.