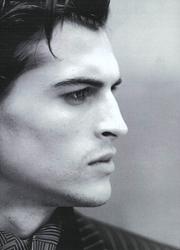 I was working as a mechanic when a woman [Elite Model scout Marina Sakamoto] said I was attractive and had a skill for modeling
New York, New York (PRWEB) August 26, 2014
It would be hard to tell from his impressive portfolio, which includes fashion layouts for everyone from Chanel and Gucci to CK One and Pepe Jeans, and most recently Citizen K Homme Sport, that Brazilian model Romulo Pires is a regular person who enjoys doing the same things that all people his age do. An avid sports fan, Romulo can often be found playing soccer with his friends, which should come as no surprise, since every young man growing up in Brazil dreams of one day playing for the national football team. However, Romulo never had the idea that he would become one of the most in demand male models in fashion, and has recently confirmed to aspiring models that if he can be plucked from his humble beginnings in Samambaia, Brasilia, Brazil to a life of international fame, so can anybody else.
After being discovered at a modelling competition sponsored by Elite Model Management of Brazil in 2001, Romulo has been in some of the most high profile ad campaigns in fashion, and has worked with all of the leaders of the industry. Yet he has recently spoken about the unpredictable path his career has taken, and how he had never imagined such a journey was conceivable. "I was working as a mechanic when a woman [Elite Model scout Marina Sakamoto] said I was attractive and had a skill for modeling," Romulo recounts of the chance encounter which lead him to his present career. He was then encouraged to enter the competition, for which he won first place, and signed to a contract with Elite Management.
It wasn't until being spotted by House of Chanel Creative Director, Karl Lagerfeld, two years later that his career really took off. He attributes much of his eventual success to Lagerfeld, who he sees as "one of the kindest people I have ever met," for taking Romulo under his wing. "I have to say thanks to Karl Lagerfeld, because I really started to work after doing so well with him," Romulo remembers. This also brings something to mind that Romulo tells young men seeking a career in the modelling industry, which is to "always remember the names of the people who help you get where you are," advice which Romulo adheres to on a regular basis.
One of the people in Romulo's life who he gives the largest amount of remembrance to, though, is his mother Cleopatra, whom he shares an incredibly close relationship with. In fact, if one finds certain pictures of Romulo, a tattoo of his mother's name can be spied proudly blazing from one of his shoulders. In conversation he refers to his mother as his "hero, idol, and best friend," and it would be easy to see why, as she raised Romulo, his three brothers, and one sister by herself in Brasilia, Brazil. As a show of gratitude, as soon as Romulo was financially able, he paid for his family to move to a nicer place to live.
So, despite the photo shoots with Madonna and Sienna Miller, or being photographed by the legendary Helmut Newton or Steven Meisel, or being one of the most in demand male models working today, his advice for aspiring models is to, "Don't waste time because time is precious." "Modeling gave me the chance to see the world," he reasons, "and to learn that life is always a surprise." Certainly the fact that he was encouraged to try his hand at the Elite Model competition while working as a mechanic in his hometown probably alerted Romulo Pires to the unpredictable nature of life as well.