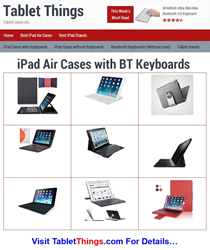 Not all iPad Air Cases are Made Equal. Low quality Cases Must be Avoided by All Means
Chicago, IL (PRWEB) August 24, 2014
There may be dozens of tablet computers manufactured by different companies with different operating systems. However, the Apple iPad continues to dominate the tablet market in the USA as well as most other countries throughout the world. With millions of iPads being sold all over the world, the demand for iPad cases has also increased quite dramatically. In response to this sky-high demand, hundreds of manufacturers have flooded the market with various types of iPad cases. This has made it extremely difficult for iPad owners to choose the iPad Air case that suits them best.
A recently published comparison of the best iPad Air cases by http://www.TabletThings.com makes this task a little easier. They categorize iPad cases based on different criteria. One of the major categorizations is based on the availability of a built-in Bluetooth-enabled keyboard. While iPad Air cases with wireless keyboards are generally more expensive, they can be extremely useful for people who intend to use their iPads for a fair amount of typing. The most popular brands of keyboard cases are ZAGGKeys, Belkin and Logitech. However, these can be pretty expensive and out of reach for some consumers. Fortunately, there are several high-quality keyboard cases available from less well-known brand names. These are very reasonably priced and generally cost less than 50% of the cost of well-known branded keyboard cases.
In contrast, iPad smart cases without keyboards are very economical and cost as little as $12. These are available under a wide range of brand names such as Moko, Fintie, Snug and Invellop. They also can be categorized as those made of leather and those made out of aluminum. Those made with genuine leather are obviously more expensive while those made with synthetic or PU/polyurethane leather are generally very cheap. The aluminum cases and covers are also reasonably priced. The main advantage of aluminum based iPad cases is that they are light-weight and relatively thin. Comparatively, leather-based cases can be heavier and thicker. However, a notable advantage of these leather-based cases is that they are more shock absorbent than aluminum based smart covers. This is a characteristic one has to pay attention to when a consumer is trying to decide which type of case to purchase.
The above review also compares the best budget-friendly iPad cases with keyboards. These come from not-so popular brands like New Trent Airbender, Bear Motion, and Moko. Despite the less well-known brand names, they are of high-quality according to the above review.
In addition to reviewing iPad Air cases, they also review and compare standalone Bluetooth keyboards for the Apple tablet. These keyboards don't come with a built-in case or smart cover, hence will work with not just the 5th generation full sized iPad Air, but also with the iPad Mini with Retina display as well as any other tablet computer that is Bluetooth enabled. If a particular device is not BT enabled, today, there are many cheap Bluetooth dongles that are available for purchase. Basically, these devices can plug-in to a USB input of a desktop computer and turn that computer into a Bluetooth enabled device. That way, the Bluetooth keyboard can be used as a wireless keyboard even with a computer.
The above review is a much recommended read for anyone looking to purchase an iPad Air case with or without a wireless Bluetooth keyboard.