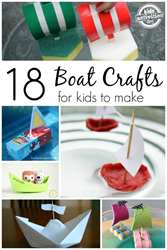 Create a sponge or milk carton pirate ship together with the kids today.
Dallas, TX (PRWEB) August 24, 2014
Kids love to play with boats and water. DIY boats and fun science experiments for kids have been released on Kids Activities Blog. Let the kids have fun building boats with items found around the house.
Water and boats make the perfect playtime combination during the hot summer months for kids. Building floating objects and making them float is fun for kids of all ages. Playtime in the tub, at the creek, at the river, or pond make kids hearts jump. The boat projects are simple and one does not have to go to the store to buy materials.
The ideas include making simple boats out of juice boxes, wax, sponges, and wine corks. Other materials include egg cartons, plastic margarine tubs, tin foil, and walnut shells.
Kids will love to build pirate ships, sail boats, and row boats. The list is endless.
Kids love to find out how the world works. Science experiments provide a fun way to teach them. Let the kids make guesses and predictions about the outcome of each project. Exploring science with the kids is always an adventure.
The projects include studying the science of fire, building molecules with grapes, creating exploding volcanos, and studying about the functions of the heart.
Colorful science projects include making glitter slime, playing in aqua sand, and creating an ocean inside a bottle.
Nature science experiments include making magnetic mud, building catapults, exploring seeds, and building all kids of bridges. The projects are fun for kids of all ages.
For detailed instructions and to get additional fun ideas, check out Kids Activities Blog this week. Come get inspired to have a blast together with the kids this week.
About Kids Activities Blog
Kids Activities Blog is a website created by two moms (who collectively have 9 children), Holly Homer and Rachel Miller. Their new book was published this spring by Page Street, 101 Kids Activities That Are the Bestest, Funnest Ever! Kids Activities Blog is an interactive website that publishes fun things to do with kids twice a day. It is an amazing resource for moms, dads, grandparents, caregivers and teachers to find kid-friendly activities that create memories and sneak learning into the fun.