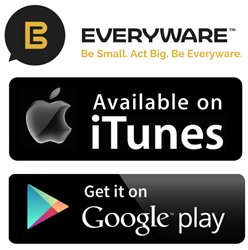 We are so excited to have officially launched into the Google Play and iTunes stores, now consumers can download the beta version of the Everyware application for free.
San Francisco, CA (PRWEB) August 26, 2014
Everyware is an innovative application that connects small businesses with their customers like never before. While small businesses will use a dashboard interface, consumers will use the application, which has the most innovative mobile functions. Everyware is now available as a free download in iTunes and the Google Play Store. It is compatible with both iOS and Android devices. Small businesses can use the Everyware application to connect with their customers and clients to perform activities like send appointment reminders, send email newsletters, communicate special offers and deals, and create a positive revenue stream through a gamified communication interface. On the consumer side, the application also provides a communication tool to send messaging such as 'running 10 minutes late', find GPS directions to businesses, click to call, and leave reviews detailing their experience. This is all done through a newly designed interface that is easy to understand and intuitive to all users' needs.
Everyware not only simplifies and changes the way that small businesses and their customers communicate, but it also will eliminate the need for many different applications that only do one thing. That is because Everyware can replace apps that only do online reviews, only book reservations, only map out a business location, but lack many of the other functions and features that Everyware brings to the table for both consumers and small business merchants. "We are so excited to have officially launched into the Google Play and iTunes stores, now that consumers can download the beta version of the Everyware application for free," explains Everyware.com CEO Larry Talley. The start-up has met with investors in Silicon Valley and has partnered with several tech giants including Google, EVO, iConnect, Urban Airship, and Twilio. After just wrapping up sponsoring the August Capital summer party event, Everyware will be joining TechCrunch Disrupt in San Francisco in September for the full version launch of the Everyware application and platform. This video illustrates how the application works and makes communications easy for small businesses. "As we are coming out of testing phase, we are excited to work with new small business merchants and customize new features for different types of businesses everywhere," said Joe Russoniello, COO of Everyware.
About Everyware:
We simplify marketing and communications for small business by creating a personalized mobile connection that drives loyalty and redefines the customer experience.
Everyware is the leading provider of mobile technology that helps small business succeed in a fine-tuned, easy-to-use platform for marketing and communicating with their customer. The company's commitment to helping small businesses use technology to more efficiently manage their marketing and appointment driven efforts has fueled explosive growth in Everyware's products and services. Everyware is the first to revolutionize the 10-Mile Universe by introducing mobile connectivity to consumer. Today, Everyware continues to grow and evolve and is developing an expansive product offering encompassing a fully integrated, end-to-end small business software solution. View a video demo online at everyware.com.