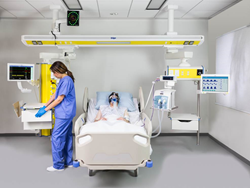 The agreement includes Draeger's extensive portfolio of architectural systems, which are ideal for hospitals, surgery centers, integrated delivery networks, and emergency medical services.
Telford, PA (PRWEB) August 26, 2014
Today Draeger announced a new agreement with Amerinet, Inc. that allows the organization to offer Draeger lights, booms, beams, wall units, and accessories to its members. Amerinet is a national healthcare solutions organization dedicated to helping members reduce costs and improve quality and safety.
Amerinet members include more than 3,000 acute care and more than 65,000 non-acute care facilities. The agreement includes Draeger's extensive portfolio of architectural systems, which are ideal for hospitals, surgery centers, integrated delivery networks, and emergency medical services.
"Healthcare organizations are under increasing pressure to improve the quality of healthcare in the face of increasing budget constraints," says Steve Menet, Senior Vice President of Sales for Hospital Solutions with Draeger. "Draeger's portfolio of architectural systems offers customized solutions that can help providers improve clinical processes and workflows, and improve the patient experience – while helping to reduce costs. Draeger's team of workplace consultants and project managers can collaborate with Amerinet members to create customized environments that optimize patient care."
Amerinet members can now use Draeger architectural systems to help them achieve their Triple Aim goals, which are defined as (1) improving the patient experience of care (including quality and satisfaction), (2) improving the health of populations, and (3) reducing the per capita cost of healthcare.
Draeger's architectural systems contribute to Triple Aim goals through well-planned patient care areas, which support patient comfort and patient satisfaction; circadian lighting, which replicates the natural changing light of the passing day to promote healing; and beam systems that keep equipment off the floor to facilitate cleaning and positively impact infection control. In addition, because Draeger can also provide Amerinet members with ventilation, infant care, anesthesia, monitoring, accessories, and service programs, hospitals can realize operational efficiency and sustainable cost savings.
Draeger offers the most comprehensive architectural systems portfolio in the industry to customize workplaces based on patient acuity level, clinical workflow and device requirements. They include:
– Ponta beam system: enables workplace flexibility with lateral and rotational movement, increasing the range of motion to optimize ergonomics and access. The system can be setup in a single patient room or across multiple beds in an open bay area. Integrated lighting provides clear visibility, safe night navigation, and a pleasant atmosphere for staff, patients, and families.
– Agila/Movita arm system: a flexible solution with multiple arm lengths that can be rotated and parked in any position. Medical devices can be positioned where needed within a working radius of up to 8 feet.
– GeminaDuo vertical wall-mounted system: maximizes unit space for one or two beds. This solution is compact and versatile for all rooms and budgets.
– Polaris 100/200 LED procedure lights: provide cool light with natural colors and rich contrast with long lasting, reliable, quality illumination.
– Polaris 50 examination light: provides high-contrast, color-stable light with variable intensity control and a handle that can be sterilized. Available in wall, ceiling, and mobile versions to fit easily in examination rooms, intensive care or recovery. Full 360° rotation provides freedom of movement and ease of use.
In addition, Draeger offers more than 500 accessories and 900 combinations of drawers and shelves, which enables workplaces to be customized to meet specific needs.
To learn more about Draeger and its portfolio of medical and safety products, visit http://www.draeger.com.
Draeger. Technology for Life®
Draeger is an international leader in the fields of medical and safety technology. Our products protect, support and save lives. Founded in 1889, in 2013 Dräger generated revenues of around EUR 2.37 billion. The Draeger Group is currently present in more than 190 countries and has about 13,500 employees worldwide. Please visit http://www.draeger.com for more information.
About Amerinet, Inc.
As a leading national healthcare solutions organization, Amerinet collaborates with acute and non-acute care providers to create and deliver unique solutions through performance improvement resources, guidance and ongoing support. With better product standardization and utilization, new financial tools beyond contracting and alliances that help lower costs, raise revenue and champion quality, Amerinet enriches healthcare delivery for its members and the communities they serve. To learn more about how Amerinet can help you successfully navigate the future of healthcare reform, visit http://www.amerinet-gpo.com.