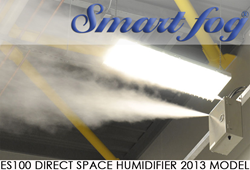 Smart Fog commercial humidifiers provide customers with peace of mind.
Reno, NV (PRWEB) August 27, 2014
The team at Smart Fog recently visited a customer in Napa, California that has been using its commercial humidifiers. The customers can attest for the reliability and extreme low maintenance of the Smart Fog products having not replaced a single part in seven years.
Unlike other products that require heavy maintenance, Smart Fog products work reliability and efficiently and require very low maintenance. The only parts recommended to replace are the water and air filter elements every 2 years.
For installers and contractors, Smart Fog humidifiers provide great benefits because the Smart Fog system is reliable from day 1. With Smart Fog systems there is no need to replace parts when the system arrives, nor a need to replace components every few months. Smart Fog gives customers peace of mind. There is no other humidification system on the market today that compares to the reliability of Smart Fog systems.
When the Napa, CA winery expanded and changed the location of the humidifier two years ago, not a single part needed to be purchased or replaced. Smart Fog system utilizes fittings and piping that can be easily disabled and reused.
"Maintaining industrial equipment can be time consuming and expensive," said Ido Goldstein of Smart Fog. "We help our customers keep their businesses up and running by providing reliable and consistent equipment made right here in the USA."
Humidity control solutions from Smart Fog are created to provide constant and accurately controlled operations of control in any specific application of use. For further details, visit http://www.Smart Fog.com/contact-smart-fog.html
About Smart Fog Inc:
In business since 1980, Smart Fog Inc. is the recognized world leader in the industrial and commercial humidification systems industry. And, all products are manufactured in the U.S. Smart Fog, The Humidification Experts, is a world leader in developing unique industrial and commercial humidifier systems to meet the individual needs of your environment.
Look in: http://www.smartfog.com