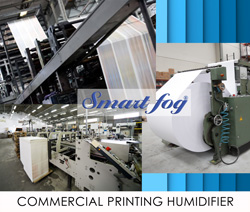 Precise humidity saves energy, water and enhances comfort.
Reno, NV (PRWEB) August 27, 2014
Smart Fog Inc, the leader in industrial and commercial humidification systems, is pleased to announce precise humidification control. Precise humidification control gives printers the exact humidity they need, preventing printers from not working due to low humidity and therefore saving businesses time and resources. All of Smart Fog's patented Dry Fog technology systems provide humidity, fumigation and cooling solutions that are reliable and consistent.
When printers stop working it prevents businesses from working to maximum capacity. Providing precise humidification control prevents downtime by providing just the right amount of moisture—no more, no less. The system is fast, reliable and precise providing the right level of humidification without wetting.
Like all Smart Fog products, the new system is reliable and performs consistently keeping things up and running. The equipment only requires scheduled maintenance once every two years.
Humidity control solutions from Smart Fog are created to provide constant and accurately controlled operations of control in any specific application of use. For further details http://www.Smart Fog.com/contact-smart-fog.html
About Smart Fog Inc:
In business since 1980, Smart Fog Inc. is the recognized world leader in the industrial and commercial humidification systems industry. And, all products are manufactured in the U.S. Smart Fog, The Humidification Experts, is a world leader in developing unique industrial and commercial humidifier systems to meet the individual needs of your environment.