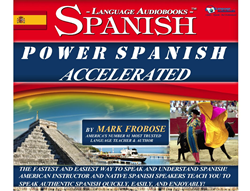 Power Spanish Accelerated is faster, easier, cheaper & more portable than Rosetta Stone!Mark Frobose - Author
Champaign, IL (PRWEB) August 26, 2014
"The fastest, easiest, and cheapest way to speak Spanish is definitely not with a computer based program," states longtime language program creator Mark Frobose.
According to Mark Frobose, the program's creator, Power Spanish Accelerated download only costs $19.00 on Audible.com as opposed to hundreds of dollars for a computer based program.
One verified Amazon.com reviewer states about his experience with Power Spanish, "Wow, compared to super expensive Rosetta Stone, this works so much better for me."
Why such glowing reviews from verified Amazon.com purchasers?
"Simple," explains Frobose, who created the bestselling Power French Accelerated.
"Power Spanish is faster because people never have to guess at meanings, and it's easier because I explain everything to the listener in English while my educated native Spanish speakers teach people how to really speak Spanish correctly."
"I would recommend Power Spanish Accelerated to anyone that wants an easy and quick way to learn Spanish," states another verified Amazon purchaser.
"I was speaking my own original sentences the very first day with Power Spanish," confirms yet another satisfied and verified user.
"According to our customers' reviews, Power Spanish Accelerated is like learning Spanish on steroids," states Frobose, who also created Power Mandarin Accelerated.
What is Power Spanish Accelerated and why are so many people giving rave reviews Amazon.com about how quickly and easily they are learning to speak and understand Spanish?
"Power Spanish Accelerated is the best Spanish language program ever created," resassures the program's creator, Mark Frobose. According to Mark, who is the founder of LanguageAudiobooks.com, Power Spanish Accelerated is the fastest and easiest way to speak Spanish for the following reasons:
1. It's totally portable, fun, and challenging.
2. Spanish language expert Mark Frobose explains everything in English and then gives you practice with different native Spanish speakers.
3. Nothing to look up. Just listen and follow the directions during your down time.
4. It's inexpensive and immediately available on Amazon.com.
5. It teaches you how to speak your own original sentences faster than any other program.
Power Spanish Accelerated is now available at Amazon.com. Instant downloads of the program can now be accessed through http://www.languageaudiobooks.com.
Power French, Power Italian, Power Portuguese, Power Mandarin Chinese and Power Spanish 2 can be immediately downloaded from Audible.com for $19.00.