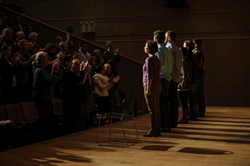 The Central Texas region provides a perfect balance of love for military veterans, a vibrant creative scene and a passion for service through the arts
Austin, Texas (PRWEB) September 03, 2014
2014 Austin Arts and Service Celebration (October 20-25, 2014) – http://www.artsandservice.org
The Veteran Artist Program (VAP), in partnership with The Telling Project, Austin Community College, Texas Performing Arts, Writers' League of Texas and many others, is taking the celebration model to Austin, TX where veterans and the arts are thriving in a unique and innovative way. VAP has led the way in the veteran artist community by engaging local communities to build awareness around veterans' issues and provide tangible outlets for veterans to pursue their love of the arts. Since 2012, VAP has produced 3 weeklong celebrations including in Washington, D.C., San Francisco and New York City (vap-nyc.org). VAP is excited to work with local and national partners to create workshops, panels and performances in the 5 major disciplines of visual arts, filmmaking, writing and literature, performing arts and interactive design.
The Austin Arts and Service Celebration will create pipelines to professional and educational networks for military veterans interested in pursuing the arts and creative industries. The event will include three elements: workshops, panels and public events. The workshops will offer intensive training with established and accomplished professionals in various media, allowing veterans to gain skills and hone their work. Panels will include discussions of various topics in media and the business of arts as well as discussions on new works dealing with veteran issues. The workshops and panels allow veteran participants an opportunity to receive feedback on the pitch, and possibly walk away with support for their ideas. Finally, the public events will allow veteran artists to showcase their work alongside professional artists with whom they are working. These events will be open to the public to allow the veteran artists to gain exposure and experience in presentation, and will include readings, concerts, performances and gallery openings.
Previous Successes - The 2013 New York City Arts & Service Celebration, presented in partnership with Warrior Gateway, was a successful week of networking, career development, and performances supporting and celebrating veterans seeking professional careers in the arts. The Celebration was featured in the November 11, 2013 New York Times article, "War Theater, Repurposed."
8 workshops, 5 panels and 5 public events during the Austin Arts and Service Celebration
**For a full event schedule, please visit http://www.artsandservice.org
Professional Artist Development - free of charge intensive training with established and accomplished professionals in various media, allowing veterans and family members to gain skills and hone their work. Workshops include creative writing, playwriting, and intro to motion graphics and will take place on the campus of Austin Community College.
Opportunities in the Arts Space - showcasing opportunities for artists in the professional space with film screenings, literary readings, theatrical performance, visual art showcase, and a conversation with the Veteran Artist Program. Some events will be limited capacity. These events will take place at various locations around Austin. Check http://www.artsandservice.org for exact times and locations.
Industry Leaders Speak - An opportunity for veterans and family members to hear from professionals and industry leaders on various topics including new media, the business of the arts, as well as new works dealing with veteran issues.
About the Veteran Artist Program (VAP)
VAP is a national non-profit that has given voice to over 1000 veteran artists in 5 years, having started in Baltimore in 2009 and now based out of New York City. VAP has worked with national veteran and arts organizations to produce six music/theatrical live events, filmed three documentaries, one feature film, curated gallery exhibits, provided videography/photography services, and helped organize more than 30 community improvement projects, including painting two murals in Baltimore and one in the Bronx. Most recently, VAP installed the first ever all veteran art exhibit at the Pentagon, selecting 50 veterans from over 400 submissions. VAP has produced 8 Telling Projects since 2010 and recently joined the Got Your Six initiative alongside 30 organizations offering services to veterans across America. VAP's work has been seen on CNN, Fox News, ABC, BBC, MSNBC and covered by NPR, Baltimore Sun, The Washington Post, The New York Times and The Wall Street Journal. http://www.veteranartistprogram.org
About The Telling Project
Since 2008, The Telling Project has worked with communities and organizations to produce "Telling", a performance in which military veterans and their family members, after interviews, performance training and rehearsal, stage the 'telling' of their stories for their communities. The Telling Project has produced 16 original performances around the nation, putting over 100 veterans and their family members on stage – in New York City, Minneapolis, Baltimore, Austin, Portland, OR, San Francisco, Washington, DC and many other locations. Partners and sponsors include the Bob Woodruff Foundation, Smithsonian Institute, Library of Congress, the Guthrie Theater, PBS, National Endowment for the Humanities, National Endowment of the Arts and the American Legion. Press includes New York Times, Washington Post, NPR, PBS, Associated Press, Huffington Post and others. The Telling Project and Veteran Artist Program recently performed Telling: New York City – This is What We Fought For at the Fashion Institute of Technology in Chelsea, Manhattan.
About Texas Performing Arts
Texas Performing Arts is situated on the main campus of one of the largest and most prestigious research universities in the country. Texas Performing Arts serves The University of Texas at Austin campus and the Austin community at large through a diverse season of world-class fine arts performances, educational activities, and collaborative partnerships. Texas Performing Arts presents an international season of music, theatre, dance, and conversation in our multiple venues, as well as the best in touring Broadway productions and concert attractions. As a university-based arts center it is also committed to serving the academic mission of the College of Fine Arts by supporting the work of our students, faculty and staff on our stages, classrooms, studios and production shops; and in the educational outreach programs it provides for the Austin community.
About Austin Community College
Austin Community College is a nationally recognized two-year college serving Central Texas. ACC is focused on student success and providing affordable, flexible pathways to help students reach their education goals, learn new job skills, or advance their career. The college currently enrolls approximately 2,000 veterans, and ACC serves veterans and active-duty service members through numerous programs. For details on services for veterans, visit austincc.edu/veterans or call (512) 223.7574.
About Writers' League of Texas
The Writers' League of Texas (WLT), a statewide nonprofit with close to 1100 members, was founded in 1981 with the mission of developing a meaningful support system for writers that would focus on the craft, business, and community of writing. The WLT's core programming currently includes: year-round classes taught by learned instructors (both published writers and other professionals with an expertise to share); a monthly panel discussion in Austin that is free and open to the public; the Summer Writing Retreat at Sul Ross State University in Alpine, TX; the annual Agents & Editors Conference in Austin, TX, now in its 22nd year; Project WISE – a program that brings writers into public schools; and Texas Writes – a program that brings writers to rural libraries across the state for half day workshops. http://www.writersleague.org