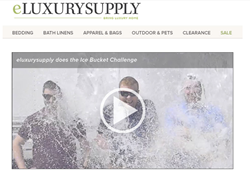 "Instead of nominating any one particular person, we wanted to nominate our eLuxurySupply family of customers to use the code FIGHTALS and we will give $10 for every order to fight this disease that has affected so many people
Evansville, IN (PRWEB) August 25, 2014
Online retailer eLuxurySupply.com has released an "Ice Bucket Challenge" video and will be donating $10 for every order that uses a special promo code to fight amyotrophic lateral sclerosis.
The employees of eLuxurySupply.com were dared by a customer to do the Ice Bucket Challenge, where a bucket of ice water is dumped over the participant's head to promote awareness of amyotrophic lateral sclerosis (ALS) and to encourage donations to the research meant to fight the disease. The challenge asks those nominated to be filmed having a bucket of ice water poured on their heads as well as nominate additional people to do the same.
Amyotrophic lateral sclerosis (ALS), often referred to as "Lou Gehrig's Disease," is a progressive neurodegenerative disease that affects nerve cells in the brain and the spinal cord. The "Ice Bucket Challenge" is a viral video campaign that has become a widespread phenomenon on social media during the summer of 2014.
eCommerce Manager Kyle Schmidt, Business Development Associate Ryan Becker and Warehouse Supervisor Corey Rosek all participated in the video in which they pledge, shortly before being doused in ice water, that they will donate $10 for every order that uses the code FIGHTALS at checkout to the ALS Association.
"Instead of nominating any one particular person, we wanted to nominate our eLuxurySupply family of customers to use the code FIGHTALS and we will give $10 for every order to fight this disease that has affected so many people," Schmidt says.
According to the ALS Association website, as of August 24, the organization has received $70.2 million in donations compared to $2.5 million during the same time period last year.
Customers that use the promo code FIGHTALS at checkout on eLuxurySupply.com will have $10 of their order donated to ALS research.
Schmidt says that if customers aren't purchasing from eLuxurySupply, he encourages them to go to http://www.alsa.org and donate directly to the cause. "We want to do our part to promote awareness for ALS and to help fight this disease," he said.
About eLuxurySupply.com
eLuxurySupply.com is a United States Veteran Owned and Operated company based in Evansville, Indiana that is quickly becoming one of the internet's most trusted and successful luxury superstores. eLuxurySupply is a Sam Tucker LLC owned and operated business and for any questions, comments or concerns, please call 1-800-977-7433 or email service(at)eLuxurySupply(dot)com.