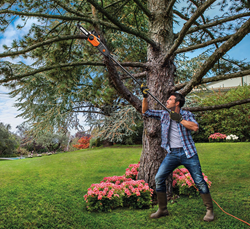 The new WORX electric pole saw easily detaches without tools from its extension pole for use as a regular chainsaw.
Charlotte, N.C. (PRWEB) August 26, 2014
Mid-to-late fall, after autumn leaves have fallen, is a great time to prune with the new WORX electric pole saw. With leaves gone, it's easier to see a tree's structure and visualize how it will look after corrective pruning. Typical problems might include branches that rub against the house, hang over walkways or interfere with other branches. Limbs also should be removed if they are broken, diseased or infested with insects. Large, overgrown shrubs should be pruned by thinning rather than sheared at the top. Thinning reduces the shrub's size without changing its overall shape.
The business end of the WORX electric pole saw is equipped with a 10-inch, low- kickback bar and chain, which is driven by a powerful 8-amp motor. It's simple to install the saw's extension pole without using tools. Just slip the saw's handle into the snug-fitting sleeve at the end of the pole and secure the saw by hand-tightening a large screw knob.
The pole saw weighs only 10 lbs., which makes it easy to lift and maneuver. Overmolds on both the front and rear handles improve operator comfort and control, especially when the saw is used for extended periods. The saw's cutting capacity can withstand cutting trees up to 19½ inches in diameter.
This versatile pole saw includes key features found only on other WORX chainsaws. For example, no other brand features the patented Auto-Chain Tension system, an easy-to-use chain tensioning and replacement system. Simply turn a large dial on the saw's body and the system sets the proper chain tension to prevent over-tightening.
The automatic oiler system includes a reservoir with an oil level indicator, showing when a refill is needed. Constant lubrication is provided to both the bar and chain during operation. The eco-friendly WORX electric pole saw is emission-free and has low operating and maintenance costs, compared to gas-powered models. It is covered by a WORX 3-year warranty.
The WORX 10 in., 8A Electric Pole Saw (WG309, $99.99) is available at Lowe's.