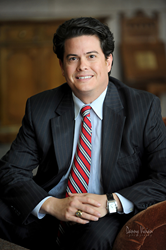 We focus on our clients because they demand results.
Corpus Christi, TX (PRWEB) August 26, 2014
Texas attorney Alex R. Hernandez Jr. was named one of the top ten Texas criminal defense attorneys in the area of white collar criminal defense.
Armed with a degree in Economics, and over a decade in representing white collar and federal defense clients Alex R. Hernandez Jr. brings a unique skill to the area of law called White Collar criminal defense.
White-collar crime refers to financially motivated nonviolent crime committed by business and government professionals.
Alex Hernandez Jr. is proud of this accomplishment and thanks the peers for their recommendation for this award.
The Law Offices of Alex R. Hernandez Jr. is a Texas based firm with offices in Houston, Austin, San Antonio, Corpus Christi, and Victoria/Port Lavaca area. Alex is a native of South Texas and has handled hundreds of civil and criminal matters. The firm is a firm of trial lawyers who handle both civil and criminal matters. Alex is a member of the State Bar Grievance Committee, the Texas Center for Professional Ethics, the American Association for Justice, and Texas Trial Lawyers Association and numerous bar associations. He is a graduate of the University of Texas and St. Mary's University School of Law.