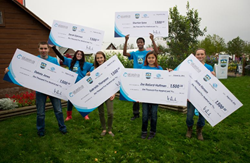 Anchorage, Alaska (PRWEB) August 25, 2014
Alaska Communications, in partnership with Boys & Girls Clubs – Alaska, announced its six 2014 Summer of Heroes honorees Sunday, Aug. 24, at the Alaska State Fair in Palmer. Corey Allen-Young joined Bill Bishop, vice president of enterprise and government solutions at Alaska Communications, and Alana Humphrey, CEO of Boys & Girls Clubs – Alaska, at a special ceremony to recognize the heroes for their community service efforts and present them each with $1,500 scholarship checks.
Now in its fourth year, Summer of Heroes promotes awareness and support for youth development programs throughout the state. As part of the program, Alaska Communications and Boys & Girls Clubs – Alaska recognize youth who are creating a positive impact in the community by volunteering or raising significant funds for a worthwhile cause, accomplishing something extraordinary in school or in sports, or inspiring others to take action.
This year's Summer of Heroes honorees range from ages 13 to 19 and come from several different communities across the state, including Anchorage, Nikiski, and Huslia. The 2014 heroes are:

Dakota Jones, age 17, Anchorage – With a passion for helping his peers, Dakota has been involved with the Anchorage Youth Court for three years. He has held various roles with the court, currently serving as chief judge. In addition to helping others with legal issues, Dakota meets with students who have intellectual disabilities at least once a week through an organization at South Anchorage High School. During his summers, Dakota heads to Camp Shriver Alaska where he participates in a variety of sports. His love of Youth Court cases has shaped Dakota's plans to pursue a degree in law in the future.
Gabrielle Thompson, age 14, Anchorage – As a compassionate and creative person, Gabrielle started her first charitable business venture at age 10. Gabrielle founded her organization, Art and Soul America, and set up her own booth at the Girdwood Forest Fair where she held a silent auction to sell her original artwork of owls. Using the money she earned, Gabrielle adopted three endangered species owls through the World Wildlife Fund. Four years later, Gabrielle has raised and donated hundreds of dollars to wildlife protection agencies, including the National Park Foundation and National Wildlife Foundation. Gabrielle recently went to Washington, D.C., for the National History Day competition where she discussed the importance of raising awareness for genetically modified organisms (GMOs). She is currently a freshman in the gifted program at West High School.
Jenna Hansen, age 17, Nikiski – For almost a decade, Jenna has been an active member of 4-H, raising livestock with her family while also developing a love for reindeer. While raising a reindeer named Scene of the Crash, nicknamed "Crash" for short, Jenna realized she could not give him up for auction and wanted to keep him as a companion. She trained Crash to go with her to schools and education events where she helps teach others about reindeer. During the holiday season, Jenna takes Crash and her other reindeer, Comet, around the community for photo opportunities in exchange for donations. She donates the money she raises to help homeless youth in the Kenai community, a cause that Jenna is incredibly passionate about. Jenna will enter her senior year at Nikiski High School this fall and looks forward to college next year.
Sharhan Sylva, age 19, Anchorage – Sharhan discovered his love for helping others two years ago when he began volunteering at his local Boys & Girls Clubs – Alaska Clubhouse. He quickly became involved with the Northeast Community Center Boys & Girls Club where he helps operate the kids' gym, tutors younger members, participates in the planning and organization of teen programming, and volunteers at all special events, including the annual Halloween and Christmas parties. Additionally, Sharhan is a member of the Teen Advisory Council at the Muldoon Library and also organized a winter coat drive. A recent graduate of Barlett High School, Sharhan plans to pursue a career in advertising and graphic design.
Zoe Ballard-Huffman, age 13, Huslia – Eighth-grader Zoe always has a smile on her face and a "can-do" attitude that inspires everyone around her in the remote village of Huslia. Despite health issues that limit her physical activity, Zoe is both the treasurer and secretary for Huslia's Junior Dog Mushing Club where she helps raise money for races by organizing bake sales. The village elders recognize Zoe as an incredibly respectful and considerate person who is always willing to lend a hand when needed. At Jimmy Huntington School, Zoe is an honor roll student who gives her best on assignments and serves as a role model for her peers. Zoe has a passion for fishing, camping, and helping younger kids learn to ski or snowshoe.
Sarah Dykman, age 13, Anchorage – At just 13 years old, Sarah has already worked more community service hours than many adults. In October 2013, Sarah was crowned Miss Alaska Jr. Sweetheart by America's National Teenage Scholarship Pageant Organization for her scholastic achievements and commitment to serving the community. Since then, Sarah has worked more than 400 volunteer hours through organizations including Salvation Army, Food Bank of Alaska, Chugiak Eagle River Senior Center and many more. She is an honor roll student at Mirror Lake Middle School. Sarah is the recipient of the 2014 Summer of Heroes employee hero award, which recognizes a child of an Alaska Communications employee.
Since 2011, the Summer of Heroes program has recognized Alaskan youth for their acts of generosity, courage, and achievement. In addition to the scholarship program, Alaska Communications also pledged to donate $25 to Boys & Girls Clubs – Alaska for every new smartphone sold during the nomination period, up to $15,000. The final donation amount will be announced during Boys & Girls Clubs – Alaska's 32nd Annual Auction Gala Sept. 27.
"Year after year, we are inspired by the passion, hard work, and dedication that our young heroes demonstrate," Alaska Communications President & CEO Anand Vadapalli said. "We are proud to recognize the 2014 Summer of Heroes honorees for their commitment to their communities and to giving back."
"Community service through volunteerism, raising funds or simply inspiring others to be the best that they can be is a crucial component in building strong communities throughout Alaska," said Alana Humphrey, CEO at Boys & Girls Clubs – Alaska. "Even at a young age, our six youth heroes understand the importance of community service. We are pleased to join Alaska Communications in recognizing our heroes' fantastic accomplishments."
For full biographies of each Summer of Heroes scholarship recipient and more information about Alaska Communications' work in the community, visit http://www.alaskacommunications.com/summerofheroes. Stay up-to-date on Summer of Heroes initiatives and events by connecting with Alaska Communications on Facebook and Twitter.
About Alaska Communications:
Alaska Communications is a leading provider of advanced broadband and managed service solutions for businesses and consumers in Alaska. The company operates a highly reliable, advanced statewide data and voice network with the latest technology and the most diverse undersea fiber optic system connecting Alaska to the contiguous United States. For more information, visit http://www.alaskacommunications.com.