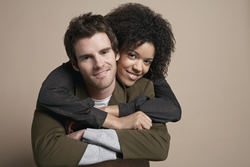 Los Angeles, California (PRWEB) August 25, 2014
Since its inception, the site has thrived on innovation in order to help it stand out in the competition and keep the users engaged. During a successful event organized by the site, a spokesperson told the media, "We are overjoyed to see how our website has been performing over the years. The happiness of our satisfied customers means a lot to us and is certainly a driving force. We owe this success to our dear members."
Relationships between black women and white men have witnessed a steady rise over the years, courtesy of the growing acceptance in the society. This has led to the growth of this dating niche and as a result, there are hundreds of websites today that are exclusive to BWWM (black women white men) dating. Nonetheless, there are not many sites that have been able to give BlackWhiteCupid.com a run for its money.
The site continues to dominate this segment of online dating due to its highly efficient nature. This provides black women looking for white men with an excellent platform to discover their ideal match.
Maria, a dating counselor, has spent more than a decade studying the dynamic trends in interracial relationships. In an exclusive interview, she said, "There is a certain kind of fondness among black women towards white men. Moreover, I have also seen white men open to dating women belonging to other ethnic groups. I believe that this mentality is pretty healthy and has helped people increase their dating options."
There are a lot of reasons that has contributed towards this paradigm shift. Today, black women are well-educated and seek partners who are caring and financially stable. They have also become more broadminded when it comes to hanging out with people of diverse ethnicities. People love to be multi-cultured and learn more about other traditions and beliefs.
Although the number of relationships involving black women and white men are substantially less in number, the trend is soon catching up. It is believed that interracial relationships will account for over 25 percent of all the relationships in the United States by 2020.
BlackWhiteCupid.com offers many impeccable features that give it an edge in the online dating industry. Users can start up with free registration and search for a compatible partner. Members of this site can share their opinions via the blogs and forums sections, check out interracial dating ideas, and also read daily news. Apart from this, users have the liberty of sending emails to those whom they are interested in.
An exhaustive list of features coupled with an easy to navigate interface has boosted the popularity of this site, making it amongst the most valuable platforms in its class.