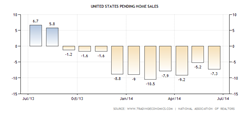 pending home sales has the greatest potential to surprise the market.
Chicago, IL (PRWEB) August 25, 2014
Lenders such as Peoples Home Equity are anxiously waiting for more housing data to be announced this week. New home sale, S&P/Case Shiller Home Price Index, and Pending Home Sales will be released this week.
The U.S. Census Bureau will release new home sales data for July on Monday morning of August 25th. As shown on TradingEconomics.com the market consensus is that new home sales will rise up to 430k which would be a considerable rise from 406k in June. The 3 month average in new home sales has been 418.66k, thus an announcement of 430k would be quite impressive considering it would point the average higher. In addition, given that June new home sales figures were so dismal after declining considerably since May by the largest percentage of the year, a rise to 430k would instill new confidence in the housing market. New home sale are important, the higher the number of new home sales the more potential existing home sale listings are on the market. Right now, the market needs more listing on the market, so analytics are always looking for higher new home sale numbers in hopes of increasing housing inventory.
On Tuesday, August 26th, the S&P/Case Shiller Home Price Index will be released. Peoples Home Equity will be paying special attention to the 20 cities composite index which gives great insight to the performance of different regions of the US.
On Thursday, August 28th Pending Home Sales will be released. Pending Home Sales have been absolutely terrible throughout this year, declining -1.1% last month. On an annual basis pending home sales remain -7.3% below year ago levels, this is only slightly higher than the annual low of -10.5% seen in February 2014. Of all the housing data announcements of this week and next week, pending home sales has the greatest potential to surprise the market.
Peoples Home Equity reminds readers that this data is in addition to the usual weekly mortgage application announcement on Wednesday's followed by weekly home sales on Thursday.
If in need of a mortgage contact a Peoples Home Equity loan officer today at: 262-563-4026.