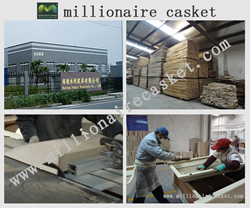 (PRWEB) August 25, 2014
MillionaireCasket.com is a leading casket company offering all kinds of caskets, including metal caskets, solid wood caskets, veneer caskets and more. Today, the company announces its special offer on mahogany caskets. According to the CEO of the company, any order can get a discount of up to 50% off. The promotion will end on November 15, 2014.
Millionaire Casket is famous in the field of casket manufacturing, and it has been in the industry for many years. As a leader in the casket industry, Millionaire Casket has experienced a fast growth in terms of sales turnover in the past few years. Now, all mahogany caskets are offered at discounted prices of up to 30% off.
Each one is simple but elegant. Millionaire Casket promises to provide high quality caskets to customers around the world with fast delivery. The business has much experience in the industry, and it has different marketing strategies for various markets. They know different customs and habits in various countries. All of these have led to the company's great success in the past few years.
MillionaireCasket.com is devoted to designing and manufacturing high quality caskets for more than 10 years, and it has much experience in caskets. Furthermore, MillionaireCasket.com offers urns, stretchers, church furniture, embalming tables, church trucks, keepsakes, and other related funeral products. Its sales turnover is expected to double within the next two years.
About MillionaireCasket.com:
MillionaireCasket.com is a leading casket company that focuses on the business of casket wholesale. This company offers an exquisitely crafted line of all kinds of caskets. The standard quality control policy is strictly applied here, and a third party quality assurance is also available. More information can be found at http://www.millionairecasket.com/70-mahogany-caskets.