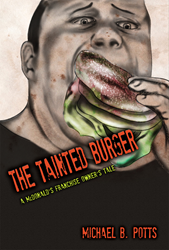 A must read. Enlightening, insightful and educational book based on real life experience that consumers and operators alike should read and can learn from
Chicago, Illinois (PRWEB) August 26, 2014
"The Tainted Burger: A McDonald's Franchise Owner's Tale" has received new reviews that applaud its straightforward and candid portrayal of the life of a McDonald's franchise owner.
Billye T. writes, "This is the story of a young African American and his experiences in the corporate world. There were people who were supportive and helpful and some who were not, It is informative and an interesting read into the corporate world as experienced by a well-qualified young man."
A reader named John agrees, calling the book, "A must read. Enlightening, insightful and educational book based on real life experience that consumers and operators alike should read and can learn from. What you see and are told can hide many untruths and misconceptions as evidenced in this great book. All that glitters is clearly not 'Golden' as portrayed!"
"The Tainted Burger" exposes the inner workings of the McDonald's franchise system, as told from an owner-operator's perspective. The story captures part of the franchise culture most people never see. This is a story about the travails of corporate life and the perils of entrepreneurship in a franchise fast-food environment, a story about race, about unhealthy food and about corporate hazing of franchisees. It is the story of the author. He was the witness.
The author's journey concluded with what he thought was the achievement of his coveted dream, when he became an owner-operator of four McDonald's restaurants. However, his personal, educational and corporate life experiences, to that point, became the very tools of his survival after he joined the McDonald's franchise system and subjected himself to what he calls a life of "perpetual punishment."
Find the book on Amazon at: http://www.amazon.com/The-Tainted-Burger-McDonalds-Franchise/dp/1499160364